Sculpture to Wear will be shown in East Hampton August 3 – 28th at Sotheby's selling gallery at 66 Newtown Lane.
The project is a partnership between Louisa Guinness, Louisa Guinness Gallery, London, and Tiffany Dubin of Sotheby's, New York, who added, "It is an honour to partner with Louisa Guinness on this selling exhibit. Louisa is a pioneer in artist jewellery, having established it as a field in its right, beginning with her 2003 London landmark exhibition Past and Present: Jewellery by 20th Century Artists. Collecting pieces by 20th-century masters and collaborating with contemporary artists, Louisa recognized that artists, especially sculptors, understood three dimensions and had a special facility for designing wearable pieces. They bring a fresh approach to materials and techniques while creating more intimate and often very different versions of their signature artworks."These works challenge and expand traditional ways of wearing and seeing jewellery. The collectors who choose these pieces have a thoughtful relationship to the objects they acquire and a real personal appreciation when they wear them." "Some people would like a Picasso on their walls," offers Ms. Guinness, "others prefer to wear one. Works by artists are scarce. The majority of pieces that exist are owned by just a few people and are buried deep in their private possessions. Often, the items have been received as personal gifts, or inherited from family members."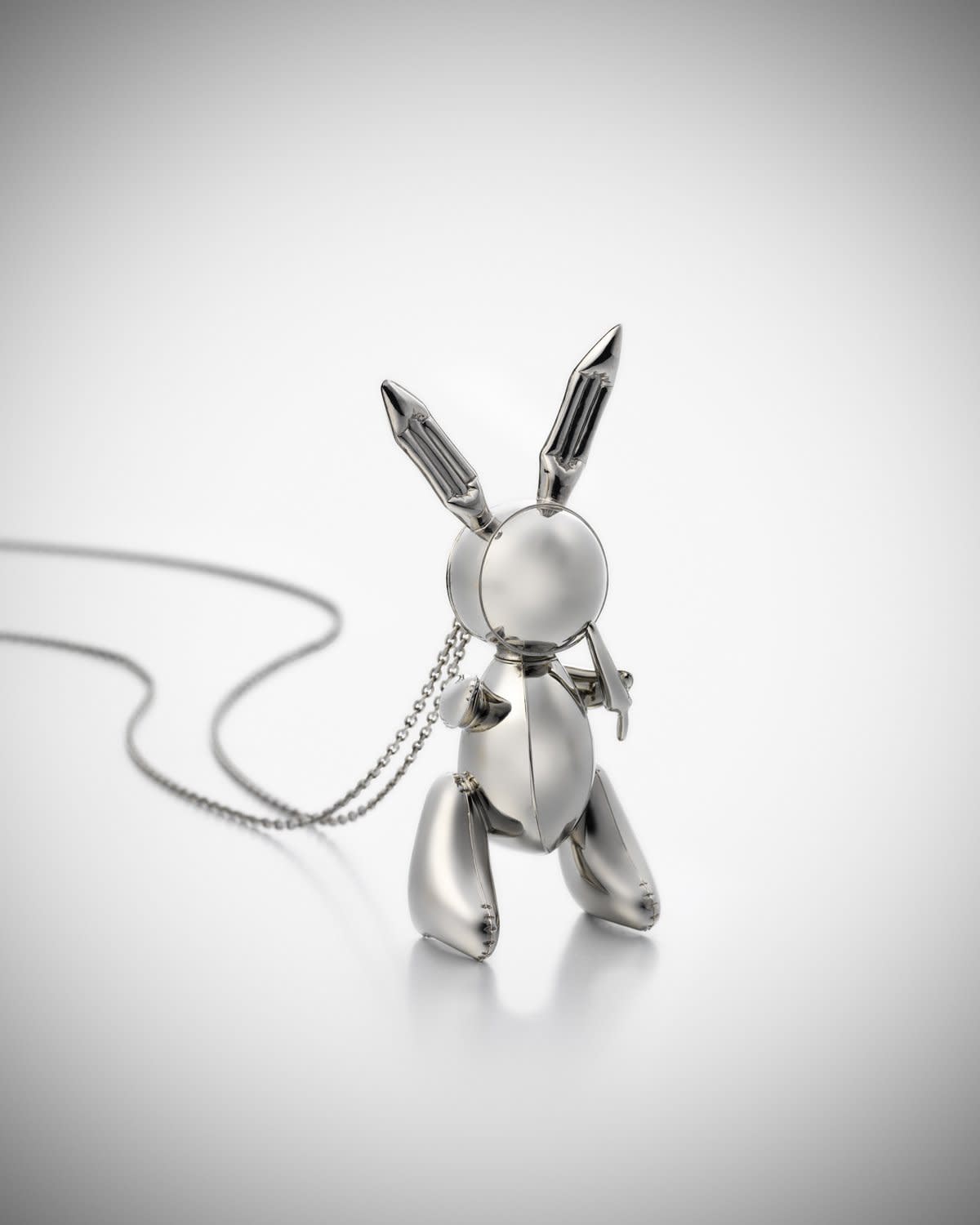 Jeff Koons, Rabbit Pendant, 2005-2009, platinum (PT 950) & chain with perspex case and wood crate, edition of 50 + 5 AP
Man Ray's Le Trou, a ring, was designed to change the wearer's perceptions of their surroundings, keeping with the Surrealists' goal of altering everyday reality. Alexander Calder's one-of-a-kind Brass Brooch from 1940 is any collector's prize. Jeff Koon's platinum Rabbit pendant has a chameleon quality, a symbol of Resurrection and Easter or a sign of Playboy, or something else. It invites multiple interpretations, also standing alone as a strong small sculpture.
"The discerning collector understands that they can own a masterpiece created at a human scale." offers Ms. Dubin. "Claude Lalanne's has always been a favorite; Venezuelan Op and Kinetic artist Jesús Rafael Soto's works are magnificent; British Contemporary artist Christopher Thompson Roys is another standout. The Water Rings by artist Anish Kapoor are any woman's dream (I'll take mine in 18k white gold with a pink enameled interior), and Rob Wynne's Octopus ring would set my summer on the right path. Amongst all these marvelous pieces, my dream work is Man Ray's Les Amoureux 18k gold with a removable pendant that detaches as a brooch, c 1970 inspired by his 1936 painting The Lovers. "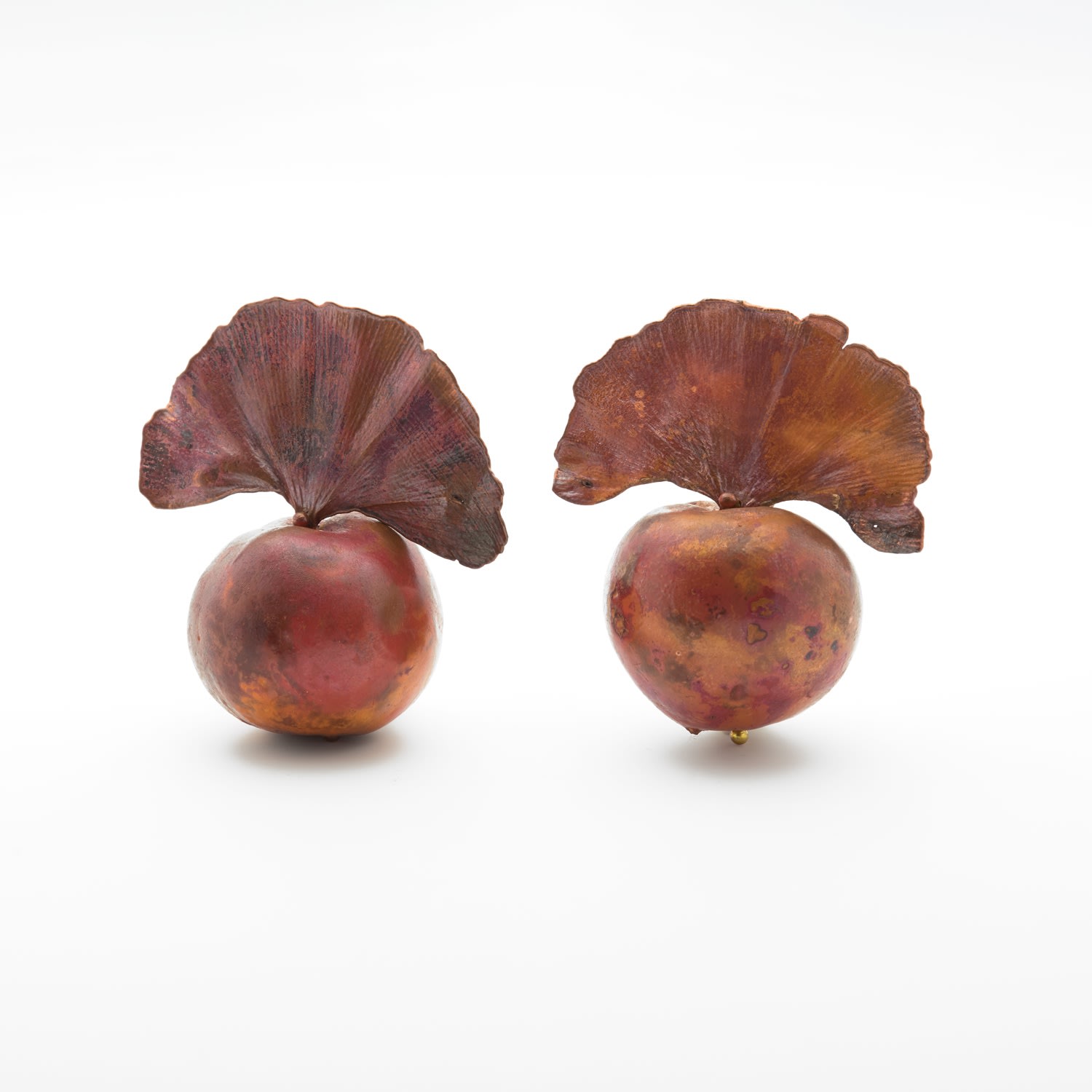 Claude Lalanne, Little Apple Earrings, 2017, galvanised copper with clips on reverse, unique
These pieces are signed and are either one-of-a-kind or limited edition" says Ms. Guinness, "they can be worn AND exhibited as a piece of art. Each piece comes with its display support—keeping such jewellery in a drawer when not worn would be an absolute waste of art; why not enjoy it as a decorative piece?" This project with Louisa Guinness follows Tiffany Dubin's successful Sotheby's Pop Up in Palm Beach with James de Givenchy's Taffin Collection. Upcoming projects include a second Pop Up in Palm Beach right after Thanksgiving, a Pop Up in New York for the fall, continuing in London and Taipei, all celebrating unique jewellery artists working in Wearable Art, and through an international lens.