Throughout the ages, the nature of visual experience has been a major field of study for artists, who are often preoccupied and determined to convincingly render what we see through research and experimentation. As a result, countless works of art created over the centuries not only represent the rich source of inspiration but also, are the key to demonstrating how we perceive certain aspects of the world we live in.
Our latest online exclusive exhibition, A Reflective Perception, explores the idea of how a work of art is able to capture the surrounding environment or even a moment through the use of both physical reflections on a surface or more conceptually, through the state of reflection and contemplation and how it impacts on the viewer and their understanding of the artwork. This exhibition features a selection of artist's jewels by leading modern and contemporary artists whose works are synonymous with perfection, symmetry and complexity whilst acting as a powerful tool to communicate identity, encourage vanity or represent the most ubiquitous form of portrait nowadays, the infamous selfie.
At the heart of the vibrant Parisian artistic and intellectual scene, Venezuelan artist Jesús Rafael Soto (1923 - 2005) and his fellow artists revolutionised the relationship between artwork and viewer. As a member of the famous Zero Group, Soto worked with materials such as thin oscillating metal rods to manipulate space and form within his installation and sculptural work. Placing these rods against a plain or monochrome background, he used the rods' 'vibrations' to incorporate movement. Crucially, more simply than just as an optical illusion, these works would shift and sway in response to the world around them and those who moved through them.
Similarly, Soto's brooch/pendant and ring designed in 1968 used the same thin metallic lines silkscreened onto aluminium or gold to give an impression of movement. The striation of the metal tricks the eye: the background is elusive, at once plain, textured and monochrome. When on the neck, or pinned to the shoulder the effect of the brooch is twofold. Cleverly designed with its purpose in mind, the work's illusion is brought to life by the movement of the wearer. Both of these jewellery designs were realised by GEM Montebello in his Milan workshop in 1968.
"I always like to believe that my work is about the expansion of the possibilities of the viewer. So if you have a sense of a heightened situation where there's an excitement, a physical excitement and an intellectual stimulation, there's just this sense of expansion. Because that's where the art happens. Inside the viewer."
- Jeff Koons
On a Contemporary note, American artist Jeff Koons (b. 1955) believes Western civilisation is a driven society, flattered by narcissistic images and with a voracious appetite for glamorous commodities. In his expressions of the ecstatic and the banal, Koons has never hesitated to breach the borderlines of taste.
Following the example of Pop artists of the 1960s, Koons used his work to reflect the commercial systems of the modern world. His immaculate replicas of domestic products, advertisements, kitsch toys and models exercised an enthusiastic endorsement of unlimited consumption, unlike the veiled criticism of some work of the first generation of Pop artists.
One of the most recognisable exponents of his work is the stainless steel Rabbit from his Statuary series, an inflatable ready-made rabbit Koons produced into a piece of jewellery in collaboration with his friend, fashion designer Stella McCartney. This playful, iconic rabbit is depicted in platinum in the form of a necklace and comes in a small wooden crate (in the manner of an artwork), inside which an elaborate acrylic case encloses the jewellery. In a similar manner, Koons and McCartney also created an editioned series of the Rabbit bracelet.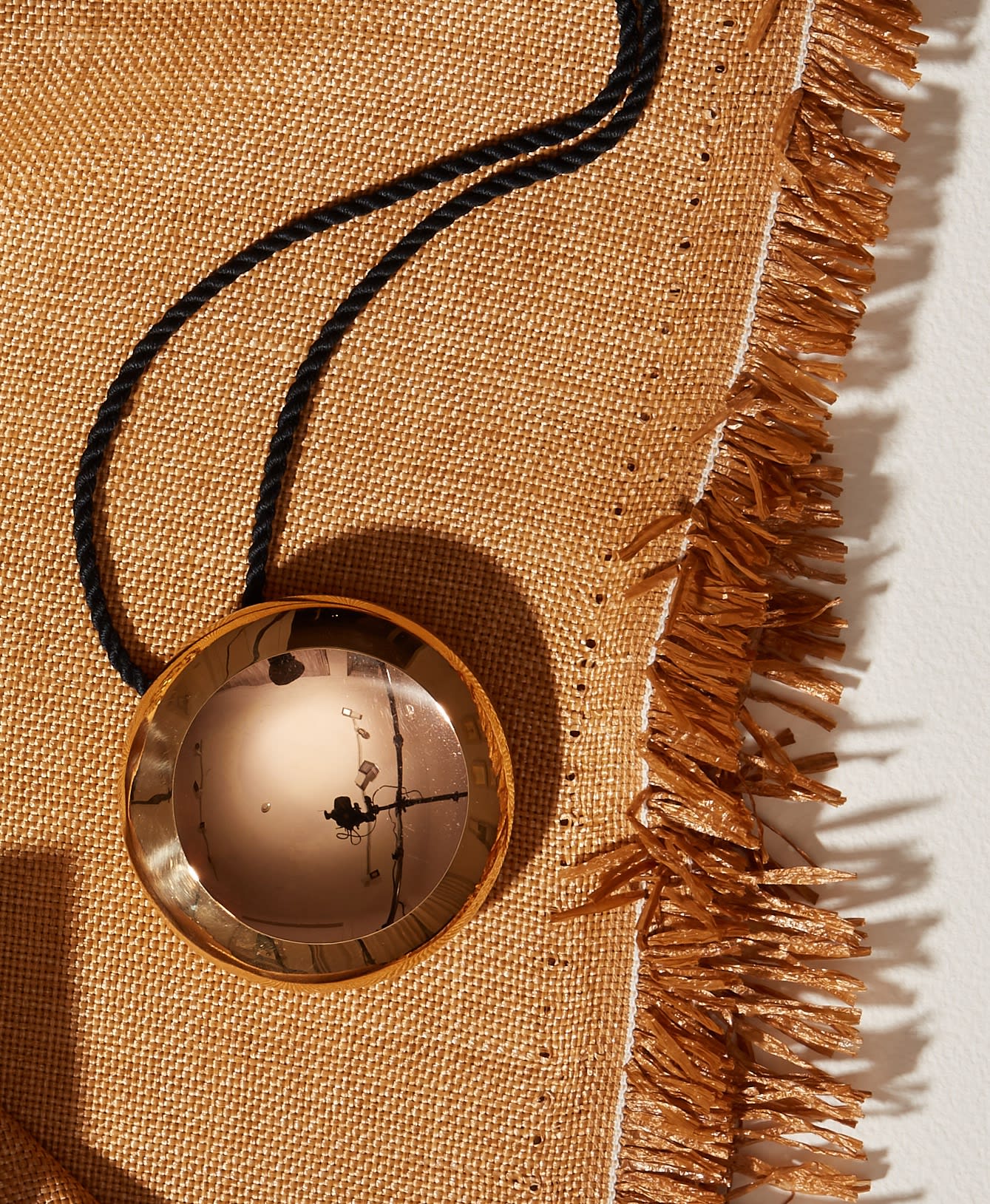 Anish Kapoor, Water Pendant, Form I, Large, 2013. 22k yellow gold polished exterior with rose gold interior. 7.2 x 7.2 x 2.4 cm, edition of 5 plus 2 artist's proofs.
There is no doubt that British artist Anish Kapoor (b. 1954) is one of the most influential sculptors of his generation. Best known for his public sculptures, adventurous in form, meaning and construction, Kapoor's work explores notions of space and anti-space, the moulding of internal and external, of positive and negative. The relationship between man and his environment is, likewise, key to his art through the employment of highly mirrored surfaces, Kapoor creates a simple but striking dissonance on the horizon.
The Water series was the first project by Anish Kapoor in collaboration with Louisa Guinness Gallery, of which the large Water rings were the first pieces which materialized the concept. As a result, and because of his remarkable ability to think in three dimensions, the concept was an immediate success and soon developed into a collection of pendants, medium-sized rings and a bracelet. The project also responded to the plea for a smaller and less expensive ring by producing the small-scale Water ring, earrings and cufflinks in editions of one hundred.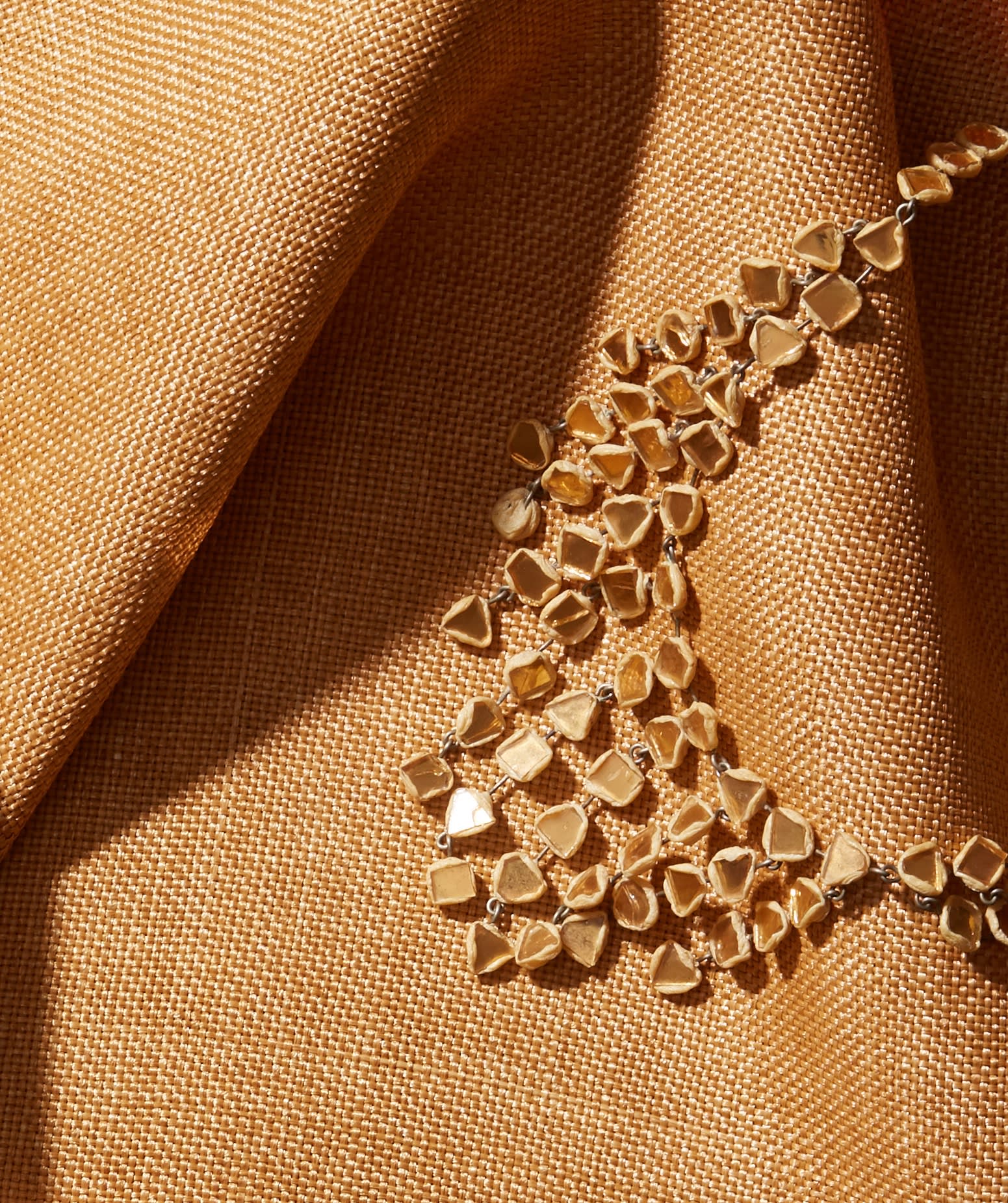 Line Vautrin, Necklace, talosel and glass. Talosel length: 130 cm, unique
The extraordinary poetess of metal, French decorative artist Line Vautrin (1913 - 1997), who from an early age was obsessed with translating her creativity into multiple mediums. Born into a family of Parisian metal workers, a teenaged Vautrin was proficient at gilding and casting, earning herself a place at the Elsa Schiaparelli Atelier, and then in 1937 at Exposition Internationale des Arts et Techniques of Paris where she presented a range of eclectic and original creations, jewellery and objects renowned for their intensity and poetry.
The period between the First and Second World Wars, Vautrin established herself as a prominent jewellery designer in her own Paris boutique. At the time, acquiring precious metals for artistic purposes was an impossible task. Imposed by these limitations, this is where the magic within Vautrin's work lies -- she devoted her time to passionately experimenting with cellulose acetate, which she would later set with small mirrored panels. Following a dangerous and complex process, the medium she both invented and dubbed under the name talosel, was born.
Vautrin had a great preoccupation with tactility, logical forms and subtle modelling, clearly expressed in each of her Talosel objects and jewels. Each piece was definitely made to a design conceived by Vautrin, sharing the uniqueness and singularity of her hand-crafted technique.
Sophia Vari,Pélias Brooch, 2007, 18k rose gold & silver with pin on reverse. 10.8 x 4.5 x 1.3 cm, edition of 6
Greek-born artist Sophia Vari's (b. 1940) oeuvre borrows as much from the European cultural landscape of her youth as it does of the South American traditions she encountered later in her life, while married to Colombian artist Fernando Botero.
Across all mediums – metal, marble, jewellery or collage – she refines abstraction to the hummed mantra of 'beauty and harmony'. Nowhere is this more apparent than her sculpture, where Vari expertly combines bold geometric form and accentuated colour with quiet, painterly curves. The lasting impression is one of strength and quiet allure.
Believing that 'if the material is beautiful, the passage of time will refine it instead of wearing it out,' she uses only the highest quality materials in her sculpture. Her jewels incorporate wood, 18k gold and silver as well as coral, lacquer, crystal and root emerald. The compositional tension found in her large-scale work is equally apparent in her jewellery.