Reflecting on the renaissance of our modern times, we unequivocally recognise the 20th century as a time clearly defined by the unthinkable, from the world wars to the man on the moon. The magnitude of events which took place over many decades eventually resulted in a cultural revolution that set in motion today's art trends, facilitated by the powerful and rapid progress of new technologies.
The exhibition In Motion is an ode to movement, energy, experience and matter all of which can be composed and encapsulated within an artwork. The artist jewellery featured in this exhibition illustrates a dualism, some of the jewels incorporate dynamic elements relating to their composition whilst others depend on the wearer's physique to produce its intended effect, thus conceptually completing and enhancing the nature of the work as a piece of art.
Moved by the works of Mondrian and Malevich, Venezuelan artist Jesús Rafael Soto (1923-2005) was one of the artists whose work departed from conventional painting and sculpture, becoming one of the founding fathers of Kinetic Art not long after his arrival to Paris in 1950.
In 1966, at the XXXIII Venice Biennale, Soto shrouded the walls of the Venezuelan pavilion in a suspended curtain of fine wire rods. Two years later, Soto's earring design used a similar curtain of tightly packed suspended metal rods. Both works chart the artist's progression towards his iconic and immersive Penetrable sculptures composed of suspended wires. The viewer is required to walk through Soto's vine-like installation, highlighting the ultimate exploration of movement, displacement and instability.
My work is in motion, and that makes all the difference...what interests me is the transformation of matter. Taking an element, a line, a bit of wood or metal, and transforming it into pure light...transforming it into vibrations. Making a solid material into something ethereal.
- Jesús Rafael Soto
Left: Pol Bury, Spilla Ciondolo Pendant & Brooch, 2002, 18k yellow & white gold, articulated spheres with pin and bail (loop) on reverse, 5.7 x 5.7 cm, edition of 8 + 2 AP; right: Blanca Muñoz, Mambo Ring, 2016, 18k yellow gold with three fine pigeon blood rubies, 1.9 x 3.2 x 1.9 cm, unique within a series of 25.
Just two years earlier, Belgian artist Pol Bury (1922-2005) represented Belgium at the Venice Biennale in 1964. Originally identifying himself as part of the Surrealist movement, Bury's work shifted towards abstraction in the post-war years becoming increasingly three dimensional and kinetic. Whilst investigating metal and movement on a vast scale, Bury also began to explore the same themes in the miniature.
In Bury's jewellery the movement of the body imitated the magnets that were characteristic of his large-scale work and its success at the time led to some en pointe reportage, which rings true today:

Though it may sound intellectual, the Bury jewellery is actually far more sensual than mathematical in its perpetual motion and changing glitter… One of the fascinating pieces is the wide clip-on bracelet decorated with a golden half sphere half full of tiny balls. A ring is stacked like a pyramid of gold slabs that are constantly changing position. "I liked doing it," says Pol Bury… he thinks the rings, bracelets and medallions should be sold with their own cubes… when they are not being worn they could be set on the cubes like miniature sculpture.

Kinetic Art goes beyond the obvious, such as the movements between engine-like pieces and structures, and also encompasses static artworks where the resulting effect, as the viewer moves and their perspective changes, is the illusion of movement. This is illustrated by the gravity-defying large-scale compositions of Spanish sculptor Blanca Muñoz (b. 1963) whose forms emulate an ethereal reflection of the evolution of the cosmos. The dancing and whimsical 'lightness' within her passionate and poetic work is transferred directly to her jewellery, as seen in her Mambo ring series.
Above: Standing Naja, 2015, articulated magnifying glass pendant, vermeil with quartz lens, 6. 3 x 6.3 cm extendable to 16.0 cm, unique.
On a contemporary note, artist, architect and designer Ron Arad (b. 1951) is celebrated for his innovative reconceptualisation of everyday objects and structures in his iconically fluid and curvaceous style. This is exemplified in his series of magnifying glass pendants Naja that take their name and inspiration from the naja cobra.

Arad's Standing Naja, created in 2015 was the first realisation of his Naja series with Louisa Guinness Gallery. Each magnifying pendant was made of concentric circles, coiled by hand around a piece of quartz or amethyst. With a standing height of 16 cm and an ability to retract into a flat coiled state, it imitates the natural movement of the naja cobra which raises the front of its body off the ground, appearing larger to potential predators.

For Greek sculptor and painter Sophia Vari (b. 1940) the concept of movement which is intrinsic in her entire oeuvre signifies the origin of her foray into jewellery at a time in her life when a punishing international schedule kept her constantly on the move. Always carrying with her a small box of plasticine, Vari would mould miniature sculptures that allowed her to explore, in small scale, the preoccupations of her large-scale work. These miniature sculptures became the basis of her jewellery designs, characterised by the perfect balance between the refined abstraction and harmony of her compositions.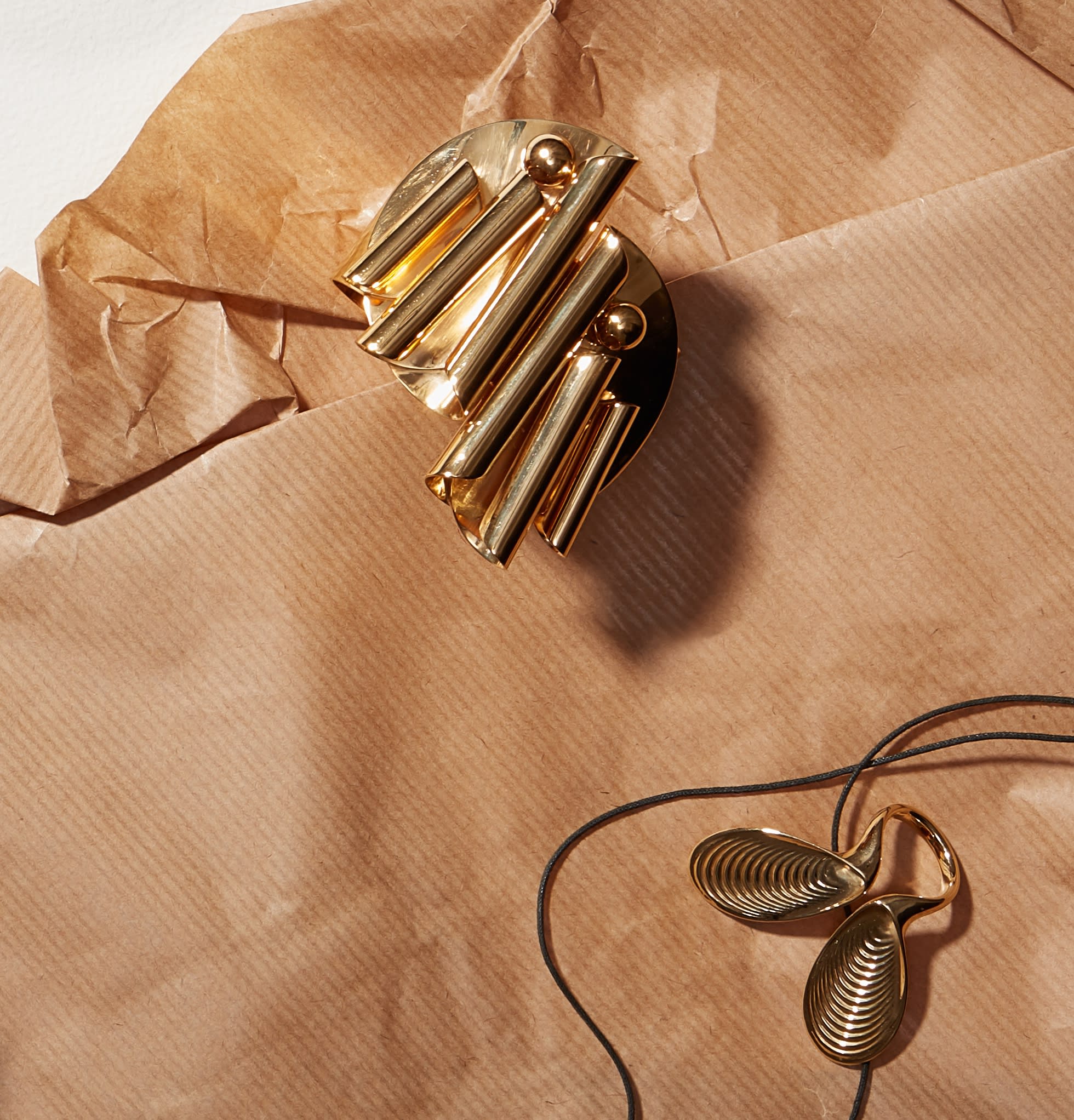 Top: Sophia Vari, Eosphoros Bracelet, 2018, brass, 5.9 x 7.0 x 7.3 cm, edition of 6 + 2 AP; bottom: Ross Lovegrove, Foliate IV Ring, 2013, 18k gold, 3.7 x 5.3 cm, edition of 10.
I'm interested in natural growth patterns and the beautiful forms that only nature creates. How that flows through me and how that comes out is what I'm trying to understand.
-Ross Lovegrove

The designer and visionary, Ross Lovegrove (b. 1958) was inspired by the logic and beauty of nature. The Welsh artist's designs create a synergy between technology, materials, science and intelligent organic form. In collaboration with Louisa Guinness Gallery, Lovegrove made a series of rings which were 3D-printed directly into gold. This was an avant-garde move in 2013 as most 3D printing at that time required a two-step process such as printing in wax or resin to make a mould from which the gold version could be cast. Lovegrove was determined to print directly in gold, however the first few attempts were unsuccessful. Eventually, the Foliate series emerged with perfect definition; able to translate the sense of virgin leaves unfurling. They have been heralded as the earliest explorations of 3D printing in gold.
If you are interested in artist jewellery featured in In Motion, please get in touch with us by email or at +44 (0)207 494 4664.