The infamous British double act were already familiar with the medium when they were approached by Louisa Guinness about the possibility of making jewellery in 2004. Before he met Sue, Tim modelled and wore a silver skull ring, cast in silver at Tim's request by his mother, a goldsmith. Soon after Tim met Sue, he gave her a ring, cast from his own but in gold, marking the beginning of a long-lasting relationship.
Standing outside the then very new and fashionable White Cube Gallery in London's Hoxton Square, Sue Webster and Louisa Guinness got talking. 'I didn't know who Louisa was but I was attracted to the necklace she was wearing at the time which said "CUNT", spelled in bejewelled gothic writing.' recalls Sue. 'I immediately wanted one.'
Noticing Sue's ring, Louisa enquired if she had ever considered making jewellery. They took a mould from the ring and were planning on making a version, but at the last minute Sue decided she did not want anyone else wearing 'her' ring and the design in this form was cancelled. However, the ring did go on to inspire a series of cufflinks designed by the artists in 2004.
Other works in Tim Noble and Sue Webster's 2004 series of jewellery were based on their iconic light sculptures. These early works explored the artists' interest in the abstraction of single word images and the trappings of popular culture. At once art and anti-art, high culture and popular culture, in these works opposition and duality assault the viewer with advertisement-like directness.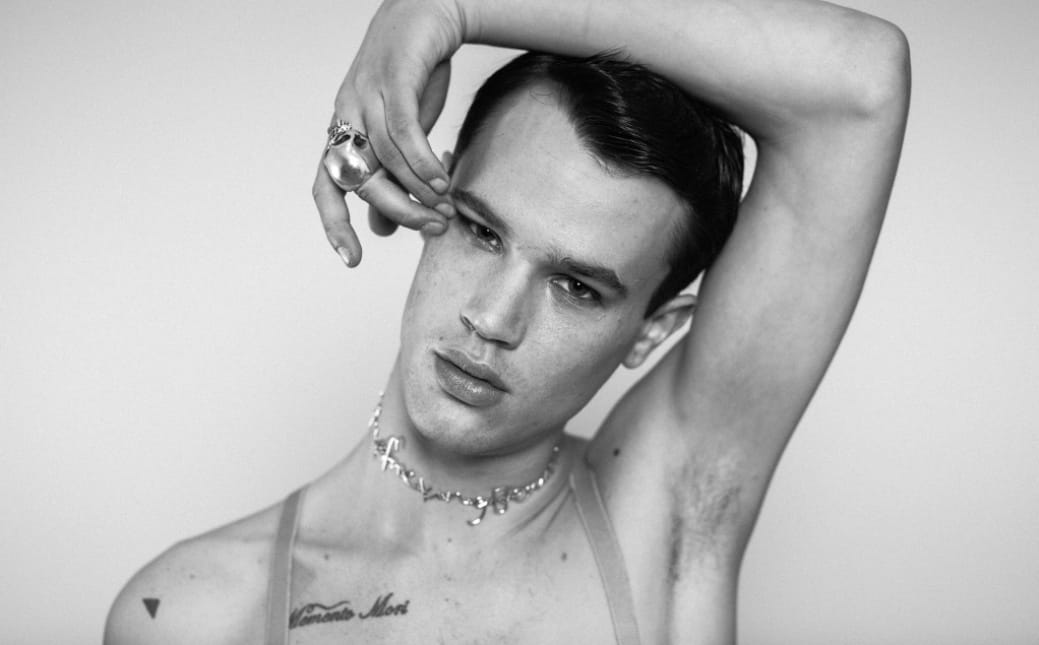 Fucking Beautiful, Necklace, 2004, Photographed by Alexander English
The fuckingbeautiful necklace is based on the light sculpture of the same name created in 2000. Stripped of its original scale and neon brilliance, when wrapped around a finger, wrist or neck, the words invite a personal reflection on beauty, vanity and adornment. 'Each letter was individually bent and cast in silver or gold and joined together by links so that it could be read in one continuous loop around the neck or the wrist,' says Sue. 'The lettering was copied from my own handwriting and so it has a spikey, spidery feel – like barbed wire. Often it proved impractical to wear, as it would snag on clothing, but it was perfectly punk for me.'
Squashed frog pendants, crow's claw earrings and rat's bone bracelets. The list of pieces in the most recent series reads like the contents of a wizard's cauldron. Taxidermy is a familiar feature of the artists' work, associated particularly with their infamous shadow portraits, in which a spotlight throws unexpected shadow forms beyond the physical artwork of clustered, messy objects. Isabella Blow, for example, owned by the National Portrait Gallery, is made up of six magpies, two rooks, two hooded crows, a rattlesnake, a raven, a robin, a carrion crow and a black rat.
More recently, Noble and Webster's DeadAlive, created for the 2012 Saatchi Gallery show 'The Art of Chess', featured a macabre army of rodents and reptiles reincarnated as kings, queens, knights and pawns.
It is interesting to note the influence that working in jewellery has had on the direction of Noble and Webster's art. They developed a very good working relationship with Gareth Harris, the goldsmith, while designing jewellery, and he has subsequently visited their studio on many occasions to work on larger-scale pieces, making casts of found dead creatures for use in their shadow works and also the aforementioned chess sets.
'Working alongside such master craftsmen as Dennis Smith and Gareth Harris introduced Tim and I to intricate and gentile casting and mould making techniques, which then opened the doorways in our minds and enabled us to apply these learnings on a much larger scale,' explains Sue. 'For instance, it gave us the ability to cast in gold, silver and bronze our collection of mummified creatures - squirrels, rats, mice and frogs – picking out every little detail, including their tiny bones, sharp teeth and creases in the skin, and to create three large-scale seminal sculptures: The Gamekeeper's Gibbet, The Masterpiece and Dead and Alive.'
The combination of precious metals and taxidermy was inspired by the duo's 2009 visit to Egypt. The Ancient Egyptians believed that gods could take animal form. Indeed, they bred animals specifically for mummification, which they then sold to pilgrims. Mummified in precious metal, the subjects of Tim Noble and Sue Webster's jewellery nod to ancient Egyptian talismans and lavish burial chambers. As with all of the artists' work, these striking objects simultaneously represent an examination of contemporary culture. A climbing mummified frog hung round the neck, or a vulture claw rising from a finger, are humorous reflections on fashion, art and adornment.