Within the realm of Jewellery, materials have traditionally been judged on the grounds of counting up the intrinsic value of its constituent elements, whereas in art, the game changes radically with the introduction of raw, unfashioned stones and innovative settings that turn materials with apparently no intrinsic value into a true example of craftsmanship and sophistication.
We are very pleased to present The Uncut Gem & The Interpreted Stone, a curated selection of artist jewellery that explores the idea of pushing one's creative limit to create astonishing pieces of jewellery by mainly using gems and stones that are considerably less precious and intrinsically valuable but high on exemplary artistic merit.

Anglo-Italian designer Andrew Grima (1921-2007) became known as the doyen of modern jewellery design in Britain. Originally trained as an engineer, after marrying Helen Haller in 1947, daughter of famous jewellery maker H. J. Company, Grima's career took a new direction. As a member of the team of H.J. Co., he had to face numerous challenges, one of them being the high British Purchase Tax that, to a point, suffocated the continuity of the company forcing them to take quick action and moving to a new field: re-styling older jewellery.
To their surprise, this direction was very fruitful and, in 1951, Grima took over the company.
New doors would open shortly afterwards by partnering with Michael Gottschalk to design new concepts of jewellery to compete with the trendy Italian jewellery market that grew very popular in England. It would not be until 1963, with the firm Hooper Bolton, that Grima would be capable of fulfilling his innate talent for jewellery design despite never receiving any formal training.
Equipped with an old suitcase full of semi-precious stones, Grima's "New Jewellery", was a revolutionary aesthetical world featuring the most spectacular topaz, citrines, aquamarines (and raw minerals) ever imagined. Belts, lichens cast in gold, pearls, stones or diamonds,...each Grima piece is a unique reflection of his original personality and his creative inquisitiveness, aptitudes that granted him an All-Stars public including Queen Elizabeth II, Princess Margaret or Jacqueline Onassis, who devoted themselves to his striking-yet-elegant jewellery.

"When I create a jewel, I don't think about a 'jewel' but a 'sculpture', putting in all my convictions and strength. It is only later that I adapt the sculpture with technical tools to make it wearable."
- Sophia Vari

In Greek-born artist Sophia Vari's (b. 1940) large-scale work, only the highest quality materials from marble to bronze are used. Similarly, her jewellery pieces combine the most refined materials such as gold, silver, wood, ebony, leather, root emerald and sapphire among others. Each piece of jewellery is a part of a limited edition or is a unique work, incised with the artist's signature and numbered like her sculptural and pictorial works.
Vari's work is a reflection of her multicultural upbringing, her artistic language is distinct and informed by a multiplicity of influences from Mayan, Egyptian, Olmec and Cycladic artistic traditions as well as Ancient and Baroque aesthetics. Her practice is an exploration of bold geometric forms, an examination of volume, painterly curves and lines, resulting in a composition that is both peaceful and elegant but also captures a harmonious tension in her large-scale work, equally apparent in her jewellery.
Stephen Cox, 'Geminid III' Pendant, 2016. Imperial porphyry (Red Egyptian Porphyry), 18k gold & magnets. 8.5 x 5.9 x 1.5 cm. Unique work in collaboration with Louisa Guinness.
British artist Stephen Cox (b. 1946) is best known for his monolithic sculptures and his site-specific pieces in Italy, India and Egypt, drawing on the indigenous materials to create contemporary works that resonate with historical and cultural connotations.
Using traditional techniques, Cox has carved marble, alabaster and porphyry, and was the first artist in many centuries to gain access to the Imperial Porphyry Quarries in the eastern mountains of Egypt. He has used this red Egyptian porphyry and green Greek porphyry to create a two-part piece of jewellery that is split through the middle but held together with magnets. The piece can be worn in two ways. The title, Geminid, is a conjunction of 'Gemini' and 'gem', meaning 'jewel' or 'bud'. It makes a direct link to his 'pairs' of bigger sculptures entitled Gemini and Gemini 11.
His seascape pieces, somewhat akin to a Sugimoto photograph, are the purest form of wearable art. A natural stone that has been sliced to expose a view only comparable to the Scottish coast. Each piece is unique and comes in a frame, so when not being worn the work hangs on the wall.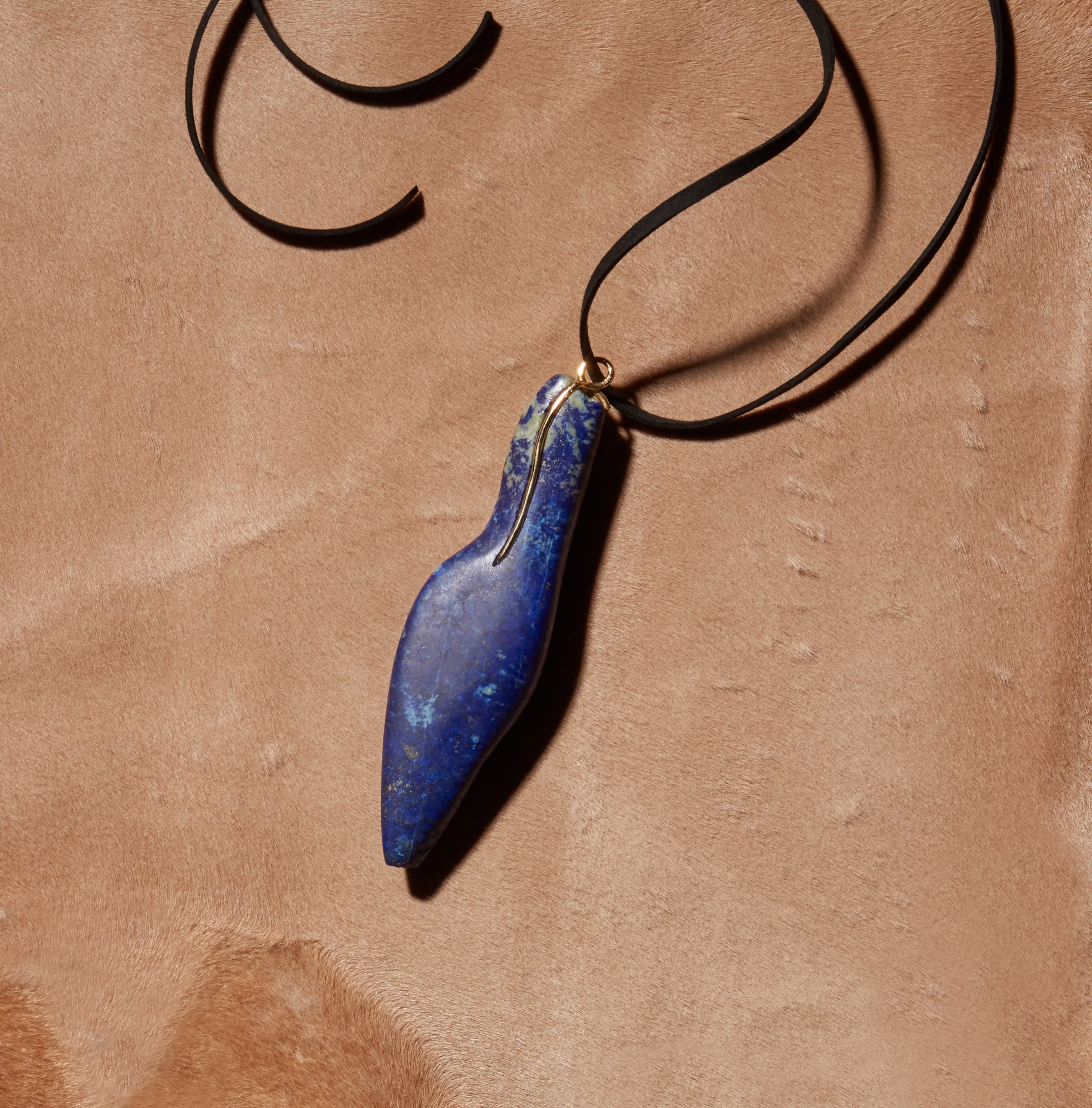 Emily Young, 'Little Lapis Goddess I' Pendant, 2016, lapis lazuli & 18k gold with marble stand. Stamped 'EY16', 'LG', no. 1 & hallmarked. Pendant: 14 x 4.0 x 0.5 cm. Unique piece in collaboration with Louisa Guinness.
British artist Emily Young (b. 1951) was born into a family of writers, artists and politicians, her grandmother being the sculptor Kathleen Scott, a colleague of Auguste Rodin and widow of the explorer Captain Scott of the Antarctic.
As a young woman, Emily Young worked primarily as a painter, whilst studying at Chelsea School of Art in 1968 and subsequently Central Saint Martins. She travelled widely in the late 60s and 70s, spending time in the USA, Afghanistan, Pakistan, India, France and Italy, with additional later visits to Africa, South America, the Middle East and China. It was during these travels, whilst encountering an extensive range of cultures, that she developed her broad view of art. In the early 1980s, Emily Young abandoned painting and started carving exclusively, sourcing stone from all around the world. The primary objective of her sculpture is to bring the natural beauty and energy of stone to the fore. Consequently, her sculptures have unique characters due to each individual stone's geological history and geographical source, but they are bound as kin by their earthly origins.
Young's practice underscores her deep preoccupation with our relationship with the planet. Working with large blocks of stone – granite, marble, alabaster, chalcedony, malachite, lapis lazuli or quartz – Young creates torsos, heads or abstracted forms, with a combination of traditional carving skills and technology. She had been drawn to jewellery making for some time. Taking the offcuts from her monumental lapis lazuli sculptures, she began to shape and polish talismans. 'Often, they already had beautiful accidental shapes! little torsos, or heads,' she says. 'And I thought, if I just tidy these little shapes up a bit, refine them, they could be tiny portable sculptures, full of the natural beauty both of the material and also the accidental nature of their forms.'
She would carry scaled-down sculptures with her or give them as gifts. Following discussions with Louisa Guinness Gallery, these tactile forms were delivered to a London goldsmith who, with great skill, applied gold mounts and traces to the stones.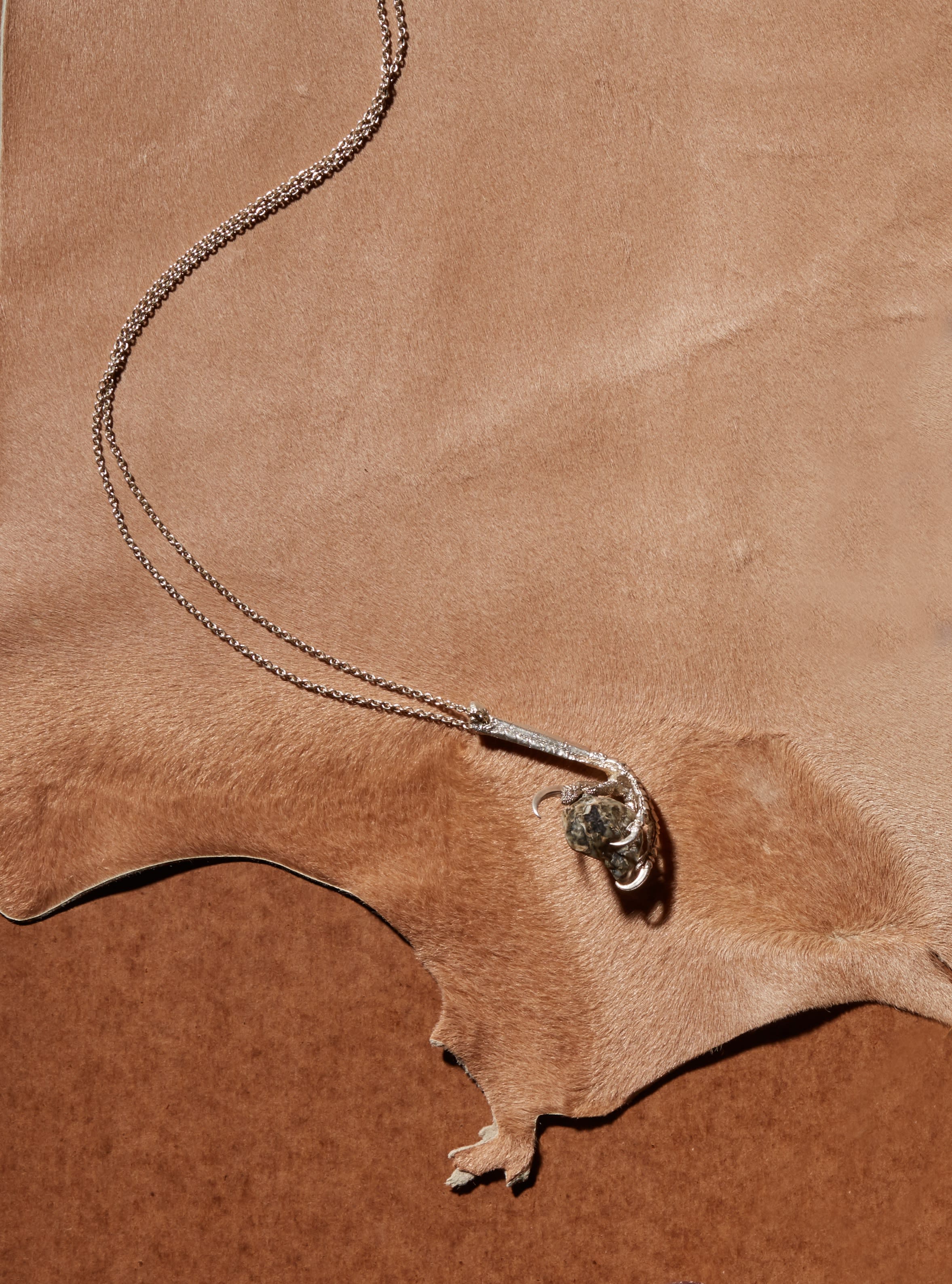 Tim Noble and Sue Webster, Mudlark (With Claw Setting) Pendant, 2013, silver with found stone and chain. 3.0 x 7.0 cm, chain length: 34.5 cm, 28.0 g (incl. chain). Edition of 10 in collaboration with Louisa Guinness.
The infamous British double act Tim Noble (b. 1966) and Sue Webster (b. 1967) were already familiar with the medium when they were approached by Louisa Guinness about the possibility of making jewellery in 2004.
Before he met Sue, Tim modelled and wore a silver skull ring, cast in silver at Tim's request by his mother, a goldsmith. Soon after Tim met Sue, he gave her a ring, cast from his own but in gold, marking the beginning of a long-lasting relationship. Squashed frog pendants, crow's claw earrings and rat's bone bracelets. The list of pieces in the most recent series reads like the contents of a wizard's cauldron.
The combination of precious metals and taxidermy was inspired by the duo's 2009 visit to Egypt. The Ancient Egyptians believed that gods could take animal form. Indeed, they bred animals specifically for mummification, which they then sold to pilgrims. Mummified in precious metal, the subjects of Tim Noble and Sue Webster's jewellery nod to ancient Egyptian talismans and lavish burial chambers. As with all of the artists' work, these striking objects simultaneously represent an examination of contemporary culture. A climbing mummified frog hung around the neck, or a vulture claw rising from a finger, are humorous reflections on fashion, art and adornment.