Large. Grand. Imposing.
There is no better way to define the Monumental. A concept which emerges from the necessity to represent and commemorate through spatial dialogues between a work of art and it's viewer.
Whether it depicts a triumph, a revolution or an unexplored utopia, monumental art has always had a direct connection with its site and the environment that surrounds it. These two important elements enhance the message of the colossal artwork and that invites us to contemplate and reflect.
As artistic movements shifted and progressed, so did the meaning of these oversized sculptures, no longer solely focused on symbolizing the victory of a battle, but also on becoming landmarks that reflect the poetry behind the concept, the minimalism of abstract geometry or the mastery of the artist's skilled hands.
And it is that same mastery which leads us to our new exhibition, From Monumental to Miniature, a selection of artist jewellery that explores the relationship between the original work and its scaled-down version, but also the ability to successfully face the complex challenges of physically and conceptually translating the colossal into a wearable sculpture that will endure the passage of time in an unique way.
Small is Beautiful!
Nic Fiddian Green
British artist Nic Fiddian Green (b. 1963) is a renowned sculptor and draughtsman who specializes in lifelike sculptures of equestrian forms and whose jewellery offers an altogether more intimate examination of his equine subject.
Fiddian Green first began experimenting with the idea of 'wearable sculpture' in October 2015, producing a collection of carved-wax cast pendants in silver and gold in collaboration with Louisa Guinness Gallery with its debut at PAD London. Working in wax, he has created cufflinks and pendants cast in both gold and silver. Though small scale, these works are imbued with the same sense of nobility and life as his large-scale work. They represent an important new step in the artist's journey through the carving process. Each work has been expertly and exquisitely sculpted to work successfully both as jewellery and small sculpture, independent of function. When the work is not suspended from the neck, it rests in its own dedicated stand.
Like Alexander Calder, Fiddian Green enjoys the hands-on application of the jewels – not something he can do very often with his sculpture, such is the grandeur of its scale. Making jewellery has also influenced Fiddian Green's practice, inspiring a series of small sculptures in 24k gold, using the same methods as for his jewellery.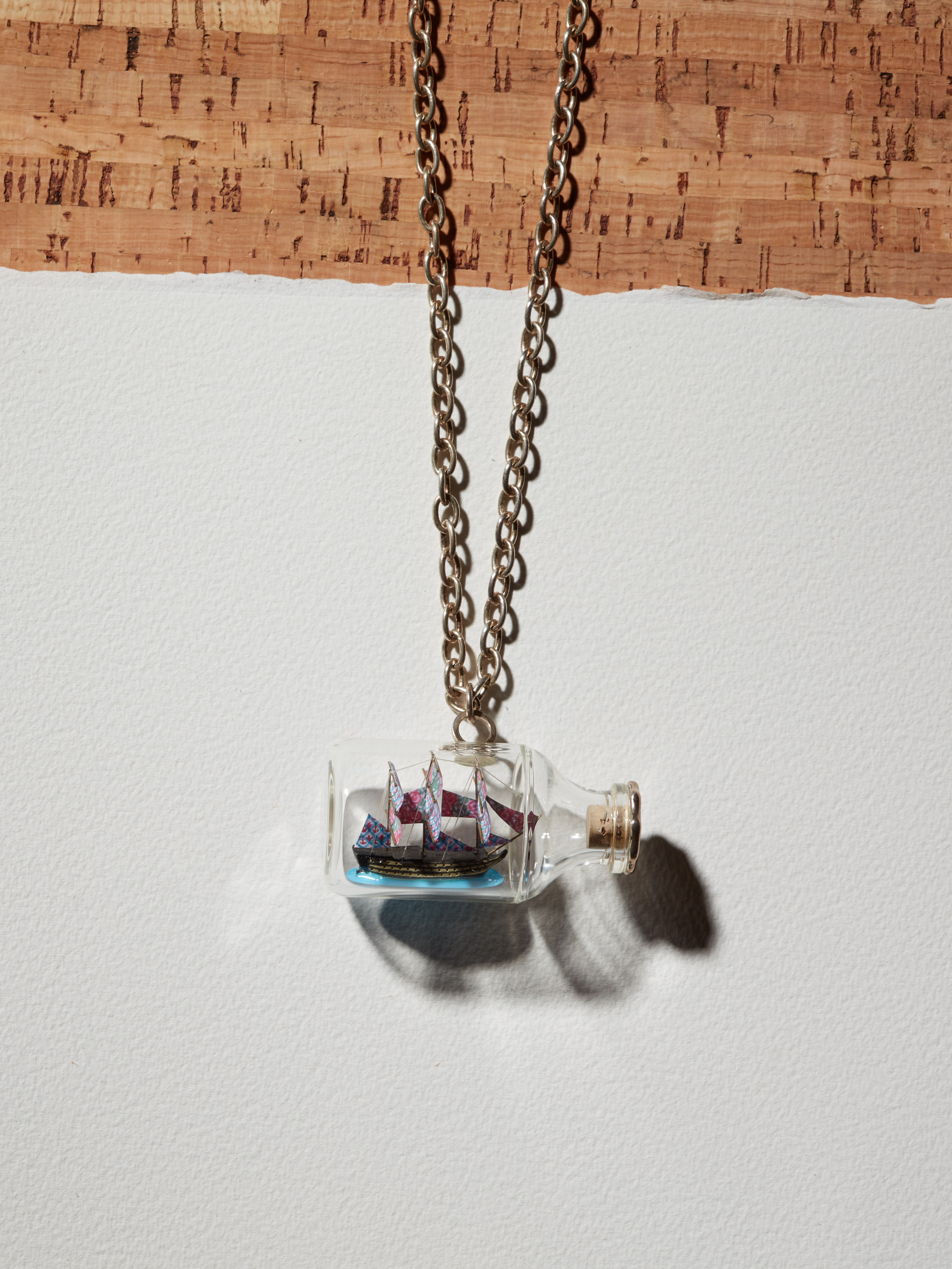 Yinka Shonibare MBE, Ship in a Bottle Pendant, 2011, hand painted resin, glass, wood & silver chain. Incised with the artist's initials, numbered & hallmarked. Bottle: 3.5 x 6.9 x 3.5 cm; 96 g. Plinth: 5.0 x 5.1 x 2.5 cm. Edition of 10 + 4 AP in collaboration with Louisa Guinness.
Yinka Shonibare (b. 1962) (MBE) is a British-Nigerian conceptual artist; a senior figure of the British art world but one who intentionally eludes easy categorization. He calls himself a "postcolonial hybrid", challenging assumptions and stereotypes and makes art that is wonderfully beautiful, drawing you in, and often wickedly funny. When he deals with pithy matters like race, class, disability, colonialism and war, he does so skillfully and often indirectly.
When invited by Louisa Guinness Gallery to make jewellery in 2010, he had just completed his public art commission for the Fourth Plinth at Trafalgar Square, London. Shonibare was the first artist chosen to reflect specifically on the historical symbolism of Trafalgar Square. His large-scale sculpture, Nelson's Ship in a Bottle, featured a scale replica of HMS Victory in a giant bottle. The next challenge came when Shonibare decided to reduce this even further to make the ship into a piece of jewellery. The sails, on both sculpture and pendant, were made from African batik material, its rich pattern symbolic of African identity and independence. The challenge of enclosing the ship within the bottle was overcome, and a mini pedestal was created for the bottle allowing the ship to rest on its own plinth whilst not being worn. A silver chain was attached and – with a nod to the ocean – a clasp in the form of an anchor completed the circle.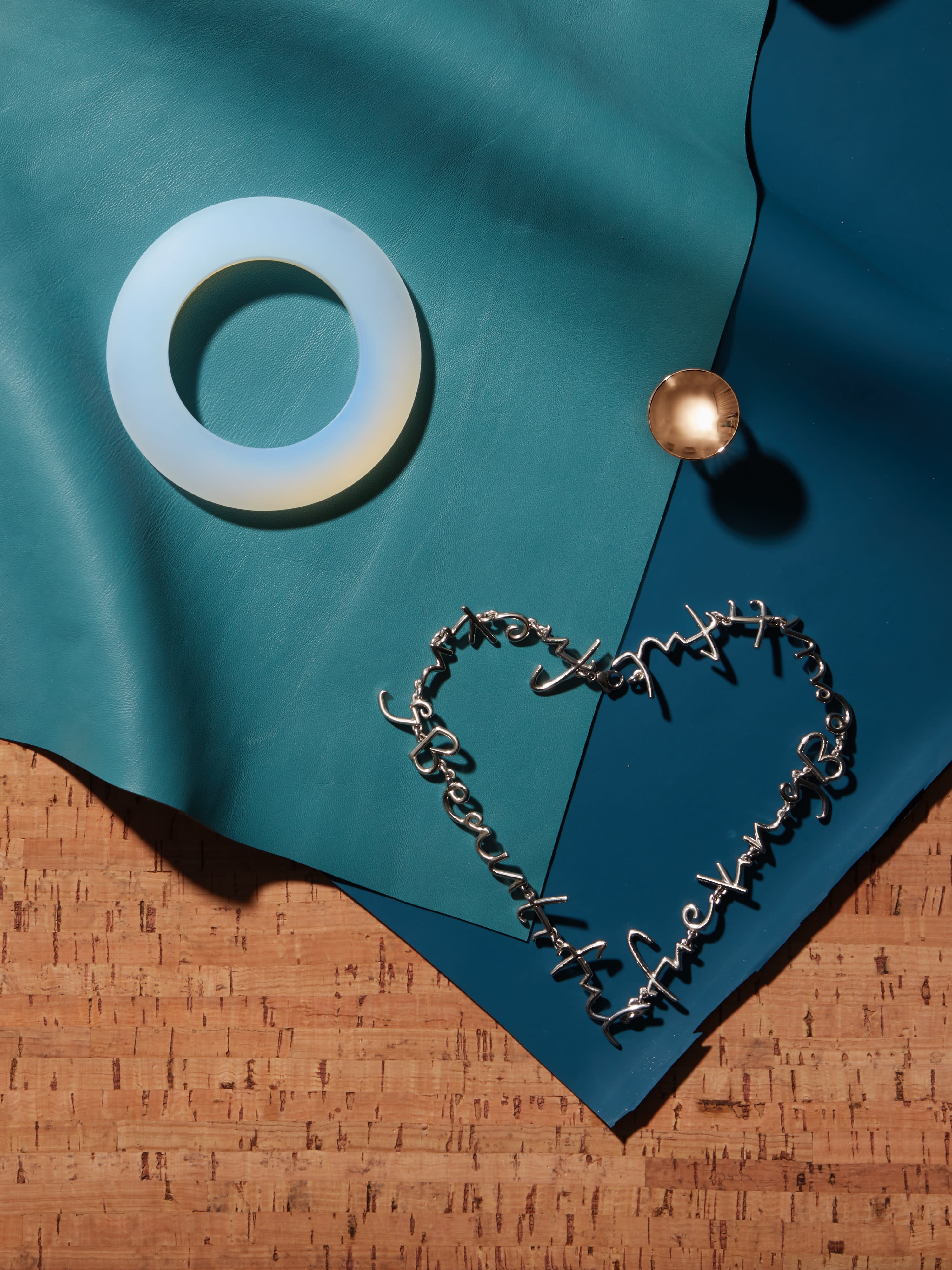 Left:
Mariko Mori,
Ring Pendant & Bracelet
, 2013, lucite with white cord.Signed edition card and individual pouch marked 'Mariko Mori'. External diameter: 10.5 cm - internal diameter: 6.4 cm, 60g. Edition of 100 in collaboration with Louisa Guinness. Upper:
Anish Kapoor,
Disc Ring
, 2012, 18k rose gold. Incised with the artist's signature, numbered & hallmarked. 3.0 x 3.0 x 0.6 cm, 23 g. Edition of 75 in collaboration with Louisa Guinness. Lower:
Tim Noble and Sue Webster,
Fucking Beautiful, Large Necklace
, 2004, 18k white gold polished with articulated letters. Incised with artist's initials, numbered & hallmarked, 44.4 x 2.7 cm, 79 g. Edition of 10 + 4 AP in collaboration with Louisa Guinness.
Japanese artist Mariko Mori (b. 1967) is widely regarded as one of the most important artists to emerge from Japan in the past fifty years. Her practice, which is founded in the belief of the interconnectedness of all things, explores universal questions at the intersection of the cosmos, life, death, reality, spirituality and technology.
Louisa Guinness Gallery first approached Mori around the time of her solo show at the Royal Academy in London in December 2012. The exhibition showed Mori's work at its best: diverse, futuristic, steeped in mysticism and shimmering in opalescence. In early discussions, it quickly became clear that medium was a central concern for the artist when considering her jewellery designs. Her first project, Ring, was realised in Lucite, an acrylic-based resin mixed with opaline to give it a unique colour.
Lucite was uniquely developed in this form by Mori and is used in various guises throughout her sculptural work for its ethereality. The Lucite forms a solid ring that can be worn suspended from the neck or on a slim wrist. Its circular form is a familiar motif in Mori's work, representing universality, unity or 'oneness'. It is designed to perfect thickness - inhabiting the last moment before the Lucite becomes completely translucent. Instead, the effect is of an iridescent form that changes the intensity of its glow, depending on the surrounding colour. 'Mother of pearl inspired me to design the jewellery,' Mori explains. 'Louisa facilitated the realisation of my vision by skilled goldsmiths.'
Ring was an extension of a monumental work of the same name created as a site-specific sculpture in Brazil by the Faou Foundation, Mori's not for-profit cultural and educational programme that works to promote awareness of, and respect for, the earth's natural treasures.
On a different note, to British artist Anish Kapoor (b. 1954), the relationship between man and his environment is key to his work and has led to his collaborations on many architectural projects. For example one of his sculptures from the Sky Mirror 2001 series reflects the sky and the bustle of the Rockefeller Center in New York. Both the spectator and surrounding environment are captured on sculpture itself and directly contribute to the overall effect of the work of art.
When it came to considering jewellery, scale was the most challenging aspect for Kapoor. He was sure of the effect he wanted to achieve but unsure of how to achieve it. An expert at thinking in three dimensions, and about the possibilities of polished metals, Kapoor nonetheless went through a painstaking process involving several prototypes to produce the 'right' effect in small scale. He was particularly concerned with the concave internal form; if the viewer did not appear upside down when looking into the void of a ring or pendant, the jewel had failed.
Two decades on, Kapoor has continued to build on the foundations of his earliest jewellery experiments. Like his sculpture, Kapoor's jewellery including a collection of rings, pendants and earrings, toys with our perception of space; using highly polished 22k yellow gold, white gold and coloured lacquer in various combinations, he tricks the eye. Voids appear as solid, as water encased in metal or as solid stones inlaid in the metal surface.
The lettering was copied from my own handwriting and so it has a spikey, spidery feel – like barbed wire. Often it proved impractical to wear, as it would snag on clothing, but it was perfectly punk for me.
Sue Webster
Tim Noble (b. 1966) and Sue Webster (b. 1967) take ordinary items including rubbish, to make assemblages and then point light to create projected shadows which show a great likeness to something identifiable such as a self-portrait. Throughout their careers they have played with the idea of how humans perceive abstract images and define them with a meaning and the result could not be any more surprising and powerful as it redefines how abstract forms can transform into figurative ones.
Parallel to their shadow investigations, Noble and Webster have created a series of light sculptures that reference iconic pop culture symbols represented in the form of shop-front-type signage and carnival shows inherent of British seaside towns, including the infamous "Fucking Beautiful".
The Fucking Beautiful necklace is based on the light sculpture created in 2000. Stripped of its original scale and neon brilliance, when wrapped around a finger, wrist or neck, the words invite a personal reflection on beauty, vanity and adornment. 'Each letter was individually bent and cast in silver or gold and joined together by links so that it could be read in one continuous loop around the neck or the wrist,' says Sue.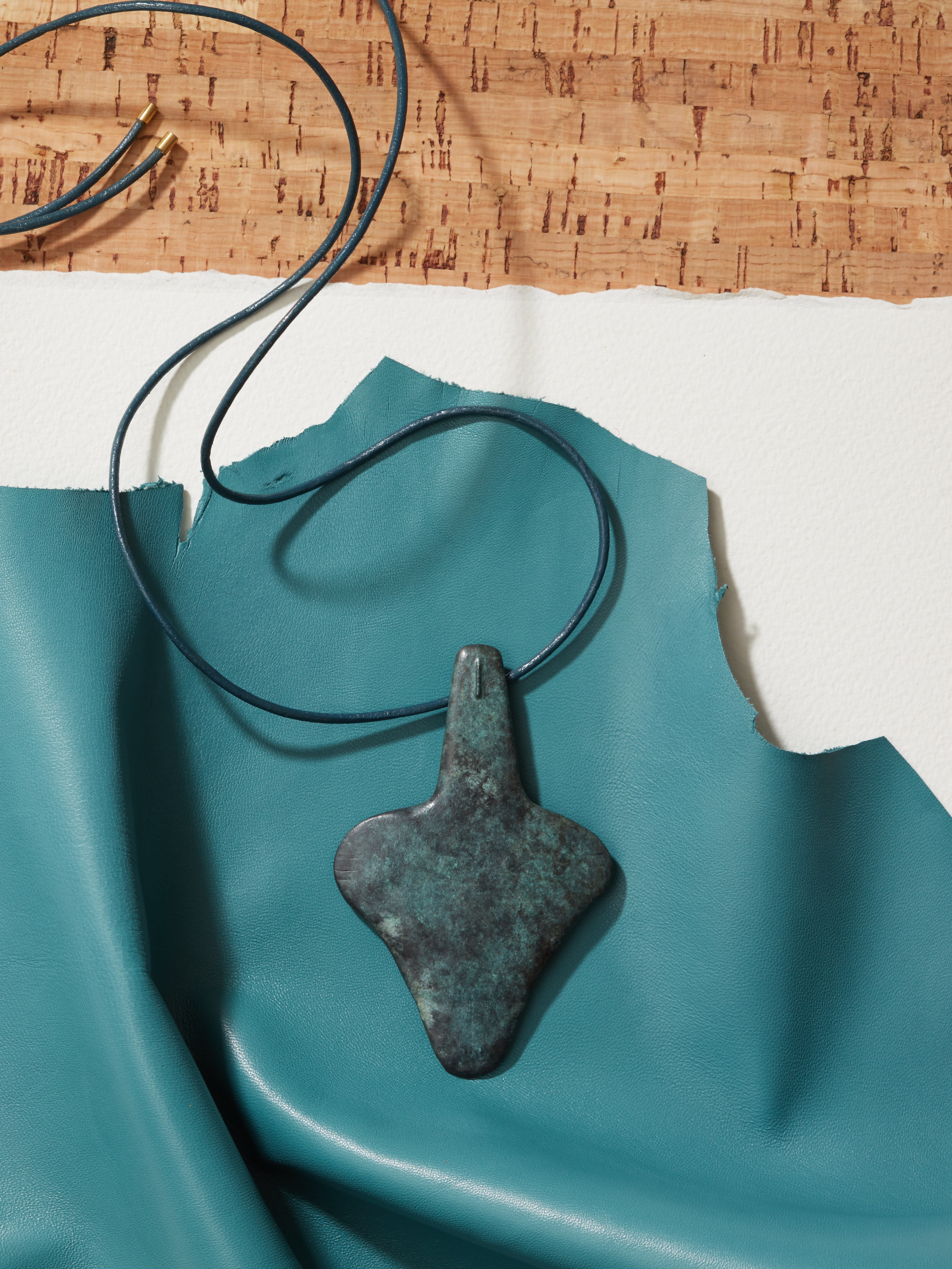 William Turnbull, Metamorphosis Pendant, 2012, bronze, 22k gold suspensory loop on reverse, leather cord with 18k gold fixings on limestone & bronze stand. Inscribed with the artist's stamp, numbered & hallmarked. 9.7 × 6.2 × 0.5 cm. 95 g. Edition of 25 + 8 AP in collaboration with Louisa Guinness.
Scottish artist William Turnbull (1922-2012) was a well established sculptor, painter and printmaker whose three-dimensional work corresponded with the concerns of the American Minimalists in its repetition or permutation of ready-made geometric units, and later on, evoked his sculpture of the 1950s in a more intimate and less dauntingly imposing way.
Metamorphosis was one of the last projects Turnbull worked on before his death in November 2012, and his only foray into the world of artists' jewels in collaboration with Louisa Guinness Gallery. Based on an original bronze sculpture in his 1980s 'Metamorphosis' series, which was digitally scanned and reduced to produce the prototype pendant. This was then cast in two separate editions: one in bronze and another in silver. Once finished, an 18k gold pendant loop was added to the reverse. Potent, powerful and simple, the pendant captures the intrinsic qualities of Turnbull's opus. The artistic importance of patina is a point about which Turnbull was emphatic. For this reason, the same foundry used to create the patina of the original sculpture was called upon to produce the smaller work.
While truly 'wearable sculpture', the dedicated stand ensures the work loses nothing of its impact while off the neck. Functioning as sculpture and piece of jewellery, the work has 'metamorphosis' at its core.
If you are interested in artist jewellery from From Monumental to Miniature, please get in touch with us by email or at +44 (0)207 494 4664.