Throughout the ages, painters, sculptors and photographers have endlessly been inspired by the human body. Artists looked to the human form as an expression of beauty & sexuality along with symbolism that depicts the body with realism. However, this began to change in the twentieth century as artist's creative and constant inquisitiveness enabled them to explore and seek a new measure of aesthetics through the interpretation of human shapes and forms, allowing them a greater sense of spontaneity and freedom from the use of traditional materials or realism.
Our exclusive online exhibition Interpreting the Human Form presents how the idea of an ideal beauty is perceived and interpreted by some of the most important artistic figures of the 20th and 21st Century while examining the power of their storytelling through the partial or fragmented body.
I love the round, the curves, the undulation, the world is round, the world is a breast.
- Niki de Saint Phalle
Sculptor, painter and filmmaker, Niki de Saint Phalle (1930 - 2002) was a French American artist whose creations were defined by its power, simplicity and directness. Saint Phalle's work first came to public attention in the 1960s with her 'shooting paintings', in which she would cover paint pots with plaster, fix them to a large canvas, and shoot at them from distance with a 22" rifle; a violent and subversive performance, 'making the painting bleed'. Later, her interest in the position of women in society found expression in her iconic work Nanas, a groundbreaking representation of the female form with full breasts, round bellies and thick thighs.

Saint Phalle started making jewellery in the early 1970s with GianCarlo Montebello after the pair had been introduced by mutual friends in Paris. Montebello spent much of his time moving between Milan and Paris, where he would visit Saint Phalle in her studio. She would give him drawings for her jewels and they would discuss at length how they should be executed. The jewellery designs were fiendishly difficult to execute; the complex enamelling had to be fired at a different temperature for each colour, risking cracking or warping at any stage. Her jewellery required the most skilled craftsmen, and could take months to perfect. Montebello would travel back and forth with prototypes in various stages of completion to show to Saint Phalle who, he recalls, was an enthusiastic collaborator. Through her exploration of the human form within her jewellery, Saint Phalle was able to express her feminist views and became one of the few female artists in the twentieth century to battle through the male-dominated art world to find fame and recognition as one of the century's 'greats'.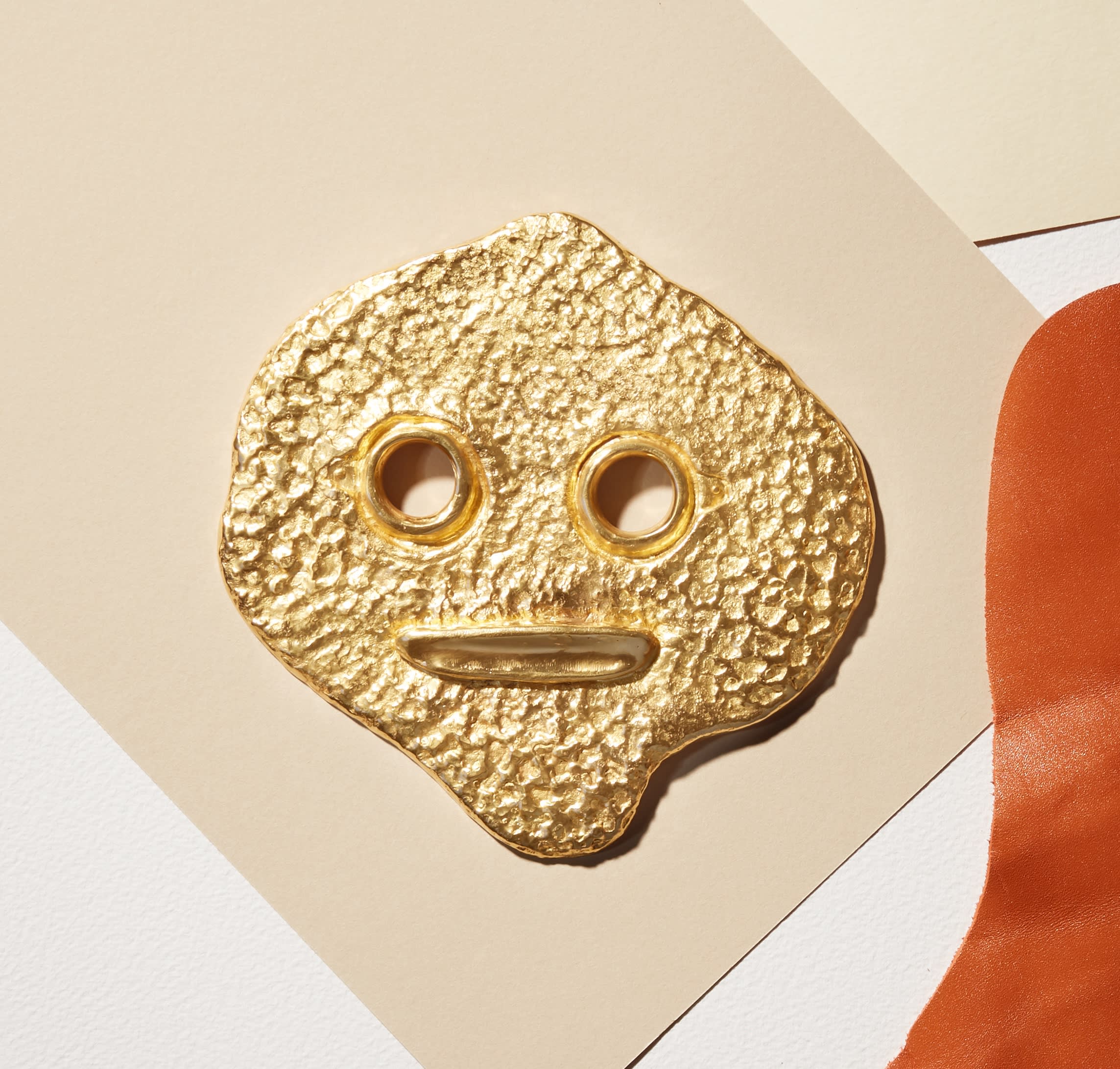 Max Ernst, Grande Tête Pendant, c. 1971, 23k gold medallion with wooden case, stamped with master goldsmith hallmark (François and Pierre Hugo), state hallmark (French), reference number, serial number and hallmark signature of the artist, 0.8 x 14.0 x 14.1 cm, 164 - 168 grams, edition of 6 + 2AP.
Max Ernst's (1891 - 1976) natural ability to transform the incredible into something believable led him to create some of the most interesting interpretations of the human form throughout his career. Not only did his artistic practice translate into a great number of collages, paintings, sculptures and etchings but also the production of jewellery. Ernst's rejection of the conventional artistic styles of the day, coupled with his increasing interest in studying the psyche and an infatuation for the purest forms of primitive art – specifically by the Southwest Native American Navajo art which he discovered whilst living in Sedona, Arizona between 1943 and 1957 – resulted in these ancient tribal forms echoing in his works where he interpreted and depicted their rituals and spiritual traditions.

Ernst and renowned goldsmith François Hugo established a long-standing friendship when they met at an exhibition organised by André Breton, in Paris, in 1922. Ernst was also a close friend of Hugo's wife, Princess Ruspoli, and would often stay at her family's castle in Vigoleno, Italy. In the early years of their friendship, before the outbreak of the Second World War, Ersnt and Hugo had experimented in gold. However, nothing memorable emerged and they didn't work together again until the late 1950s. Using the repoussé technique Hugo had perfected whilst working on the famous plates of Picasso, the pair produced a series of 34 pendants in 22 to 24 carat gold which were superbly lightweight and textural for their size. The textured surfaces mimic the techniques Ernst often used in his painting; a combination of abstract images mixed with reality.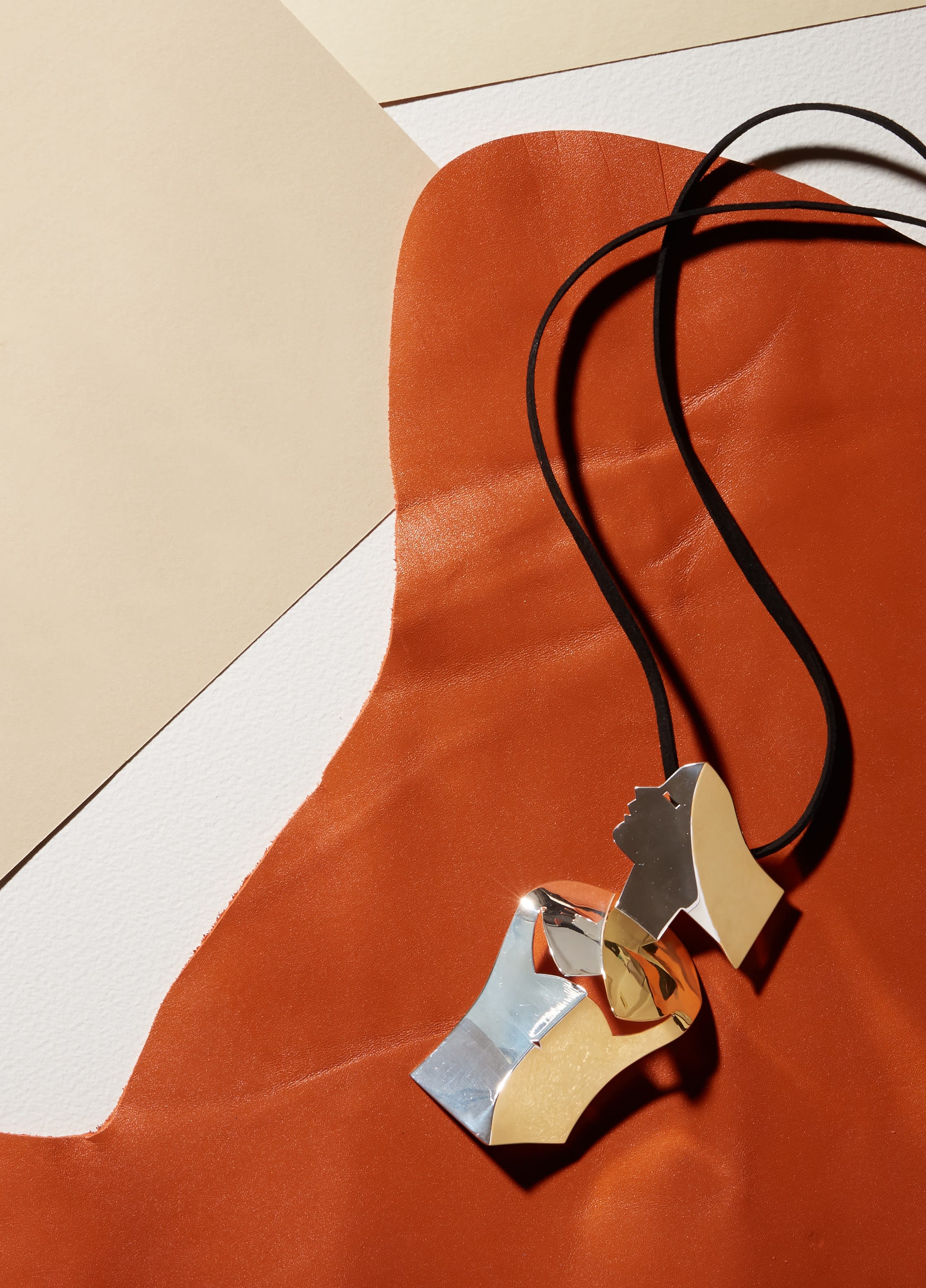 Allen Jones, Bodyline, Gold Pendant, 2017, silver and parcel gilt with suspensory loop on reverse, 5.1 x 11.5 x 2.9 cm, 38 g, edition of 8 + 2 AP in collaboration with Louisa Guinness.
Emerging in the British Pop Art scene in the mid twentieth century was artist Allen Jones (b. 1937) who came to prominence throughout Europe and the United States during the 1960s. Primarily known as a painter, in 1969 Jones produced a series of life-size and hyper-realistic sculptures entitled Hatstand, Table & Chairs. These sculptures took the form of furniture with erotic overtones, using the female form and positioning the figures into a table, chair and pieces of freestanding furniture. Jones questioned the nature of sculpture by presenting it as a functional object.
The work came out of a preoccupation and a belief that it was possible to make a statement about the figure in the context of the artistic avant garde of the 60s.
- Allen Jones
With an interest in traditional male and female power dynamics, Jones has always referenced the female form, from Kate Moss in a gold breastplate to his jewellery collaboration with Louisa Guinness Gallery in 2017. The female form emerged in the shape of silver miniature cutouts as earrings, necklaces and brooches as part of his Bodyline series (pictured above) in various interpretations (sometimes gilt with 18k gold) which can both be worn but also displayed like the sculptures they are.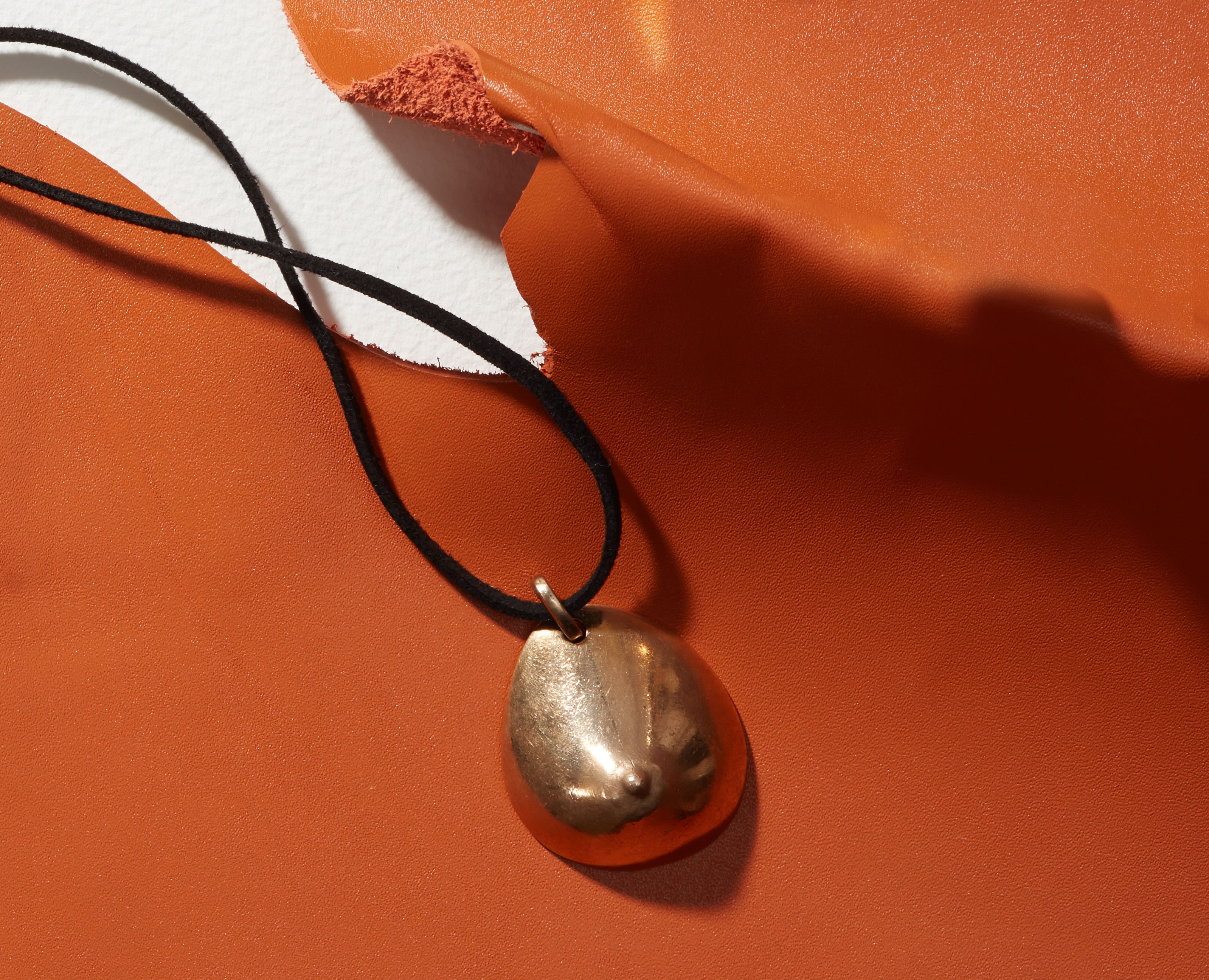 César, Le Sein Pendant, c. 1965, bronze with suspensory loop at top, signed 'César' to the reverse, 3.7 x 3.1 x 1.3 cm.
Famously known for creating his compression sculptures, Marseille born César Baldaccini (1921 - 1998) radically compressed a wide variety of items, from automobiles to discarded metal and rubbish with a hydraulic compactor. At the beginning of his artistic career in Paris, César produced classical sculptures of nudes and animals in scrap metal, later firing them in bronze. In later years, he compressed precious metals, or would recycle a friend or collector's 'old and unworn' jewels into a more wearable rectangular prism. The jewels would burst with energy as the retired stones, rings and gold chains were crushed into a contained solid column. Appearing to look for release from their newly constrained yet immortalised existence now in an alternate form, they always hid the story of their original being.

César was also known for playing with the scale of the human form, especially partial or fragmented body parts including his iconic thumbs, each entitled Pouce and Sein, a representation of the female breast which he had moulded on the dancer from Crazy Horse in Paris. Both of these motifs became large-scale works (most notably the iconic 40 foot Pouce in La Défense, Paris' largest business sector) and were also scaled-down, conceived as jewellery to be worn as a pendant or pin.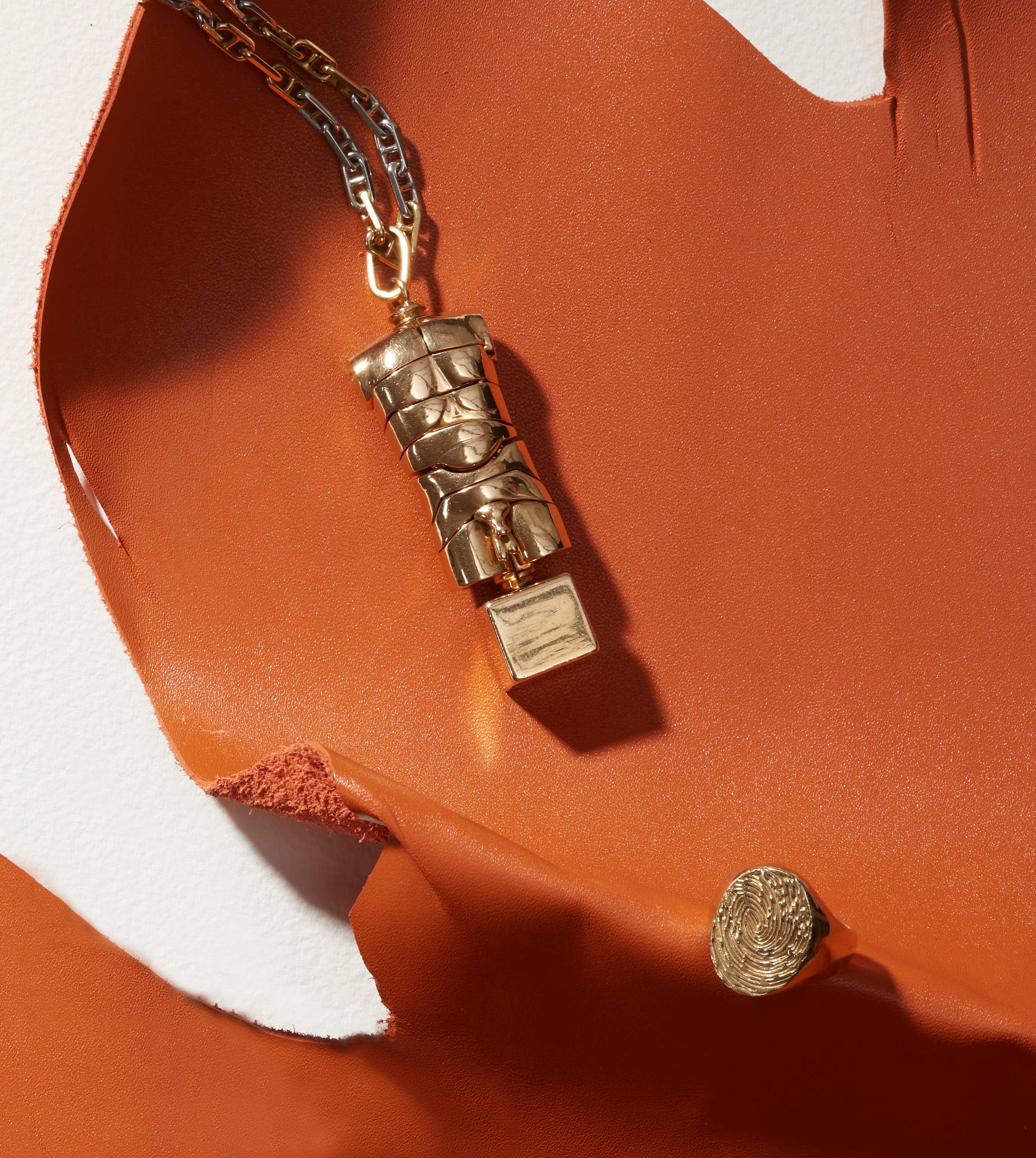 Left: Miguel Berrocal, Micro David Erotic Puzzle Sculpture Pendant, 18k gold pendant and chain with original guarantee leaflet, pendant length: 6.2 cm, chain length: 90.5 cm, edition of 5000. Right: Rob Wynne, Finger Ring, 2016, 18k gold, unique within a series and made to order.
New York based interdisciplinary artist Rob Wynne (b.1950) pushes the boundaries of kitsch and beauty, sappiness and profundity within the range of techniques many mediums used to express himself. Text is key to his work; he often uses hand-blown letters in wall-mounted pieces that say exquisite and absurd things both thought provoking and humorous.

Wynne's jewellery has taken many forms. He has made pieces shaped like octopuses and spiders; a ring cast from his own finger; and created pendants in the guise of a solid gold penny and a solid gold cent. His most recent piece of jewellery, the Finger Ring created in 2016, is an 18k gold signet ring that is produced using the fingerprint of an individual wearer or a loved one as the primary design feature. Either as a way to enhance the wearer's unique personal style and identity or as a genuine token from a lover or a family member, there is no doubt that throughout, Wynne's work on the small scale always carries a story exquisitely made.

For Spanish sculptor Miguel Berrocal (1933 - 2006) the human form was a primary source of inspiration, clearly visible in his work throughout his entire career. Berrocal's work ranges from monumental sculptures to his famous miniature puzzle sculptures often characterised by the ability of being disassembled into many abstract pieces but also functioning as jewellery.

From an early age, Berrocal possessed an innate talent for art and developed a passion for research as he grew older. He later enrolled at the Faculty of Exact Sciences in Madrid where his fascination of analytic geometry was fostered and is exemplified throughout his artistic practice. His scientific training and constant experimentation allowed him to introduce new and exciting materials and techniques to his production process which at the time was exclusive to advanced sectors of highly specialised industry.

Berrocal's first torso sculpture was created in 1959. During this time, his work gradually moved from the monumental towards the complexity of the small-scale after exploring the concept of deconstruction. The artist's torsos exhibit a sense of playfulness with abstraction, logic and space which would often incorporate surprise treasures inside these puzzle sculptures. The Micro David depicted above is no exception. This miniaturisation of Le Mini David in 18k gold consists of 18 puzzle pieces that when put together can be worn as a pendant and hidden within it's torso, a phallic ring.
If you are interested in artist jewellery from Interpreting the Human Form, please get in touch with us by email or at +44 (0)207 494 4664.