February marks the month of The Sentimental, where emotions play an important role, allowing us to rely on feelings as a guide to truth, whether it is tenderness, sadness or nostalgia. Jewellery has become a way of expressing a range of sentiments, including love or commitment, which often cannot be characterised by words alone. The artists featured in The Sentimental challenge the wearer by conveying a message, making a statement and enhancing the importance of symbolism and events marked by jewels.
This is exemplified by the artistic practice of French-American sculptor and painter Niki de Saint Phalle (1930-2002) whose artworks are clearly defined by their power, simplicity and directness. Values which allowed Saint Phalle to translate her visual language into almost any media, including jewellery making.
"I started painting in the madhouse, where I learnt how to translate emotions, fear, hope and joy into painting. It was through creation that I discovered the sombre depths of depression, and how to overcome it."
- Niki de Saint Phalle
The heart became a recurrent motif throughout her career, an empowering symbol that is often featured in her famous Nana's and works dedicated to Saint Phalle's friends and lovers.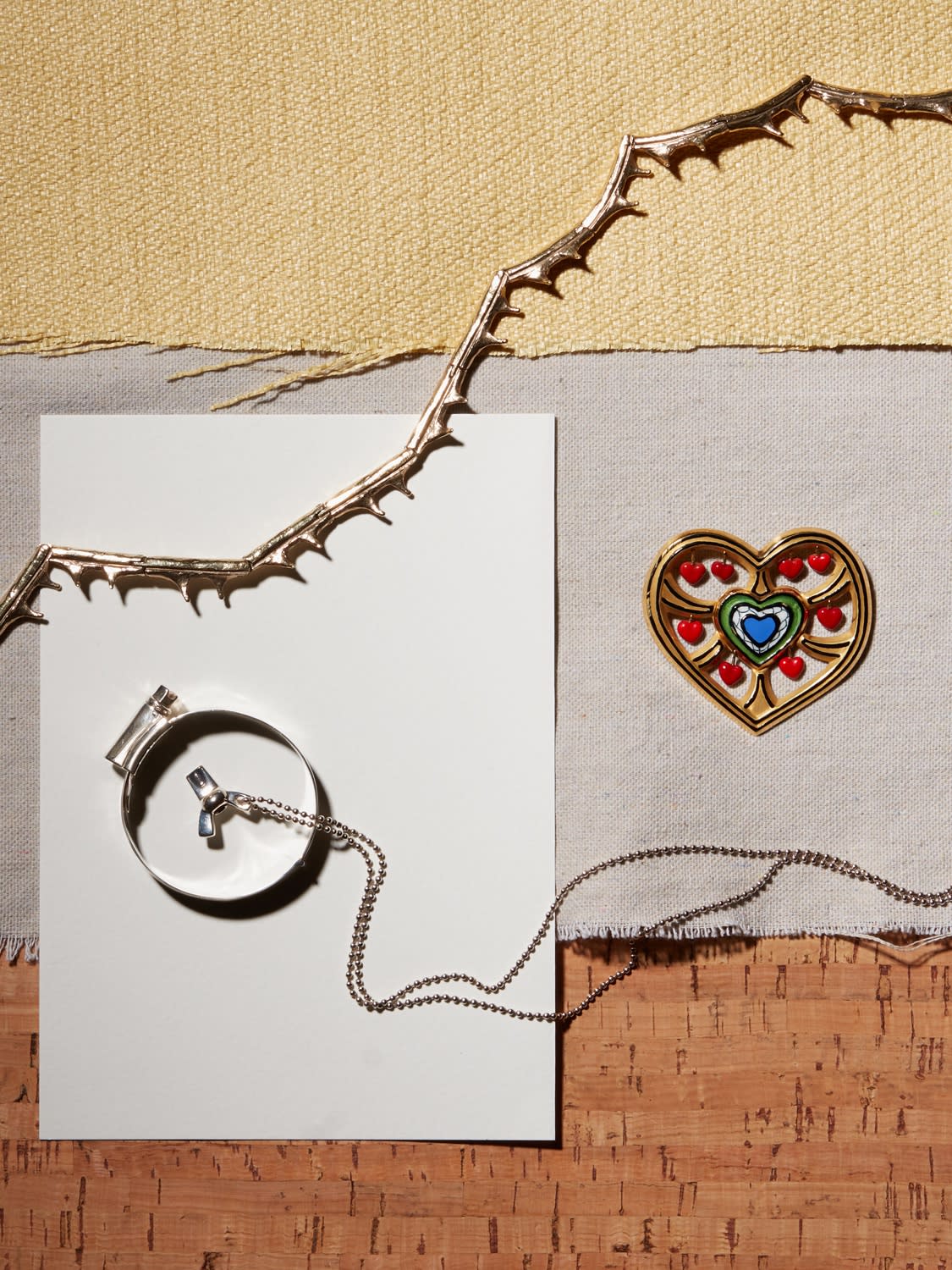 Top: Claude Lalanne, Collier Ronce Necklace, c.1985, polished bronze dore, length: 101.5 cm, unrealised Art Curial edition of 150; left: Dinos Chapman, Jubilee Clip Bracelet, 2010, silver, bracelet: 6.2 x 5.5 x 1.0 cm, key: 2.1 x 2 x 0.9 cm, chain: 38.0 cm, edition of 100 in collaboration with Louisa Guinness; right: Niki de Saint Phalle, Heart Tree Brooch Pendant, 1990, 18k yellow gold and enamel, 8.8 x 7.8 cm, edition of 33.
Through a more intuitive process of creating and making, French sculptor and designer Claude Lalanne (1925-2019) immortalised her passion for the earthly and its delicacy throughout her artistic oeuvre at the cross section between beauty and functionality.
Her success in both sculpture and jewellery is due in part to her skilful use of casts, moulds and her mastery of electroplating. As an avid gardener, Lalanne would always begin her jewellery making process by finding the flower first, making use of the flora in her own garden to produce her unique pieces. Through electroplating, the organic material would be completely transformed into a fossilised copper replica of the original.
Blurring the line between the unconventional and the sentimental, we find the Jubilee Clip bracelet by British artist Dinos Chapman (b. 1962) who collaborated with Louisa Guinness in 2010 to create a limited edition of bracelets and chokers. The Jubilee Clip bracelet features the utilitarian tool more commonly found in a garden and is accompanied by a key on a chain, enabling the power to 'lock' someone into the bracelet and present the key for their release. Instead of using traditional beauty and ornamentation usually seen in the aesthetics of jewellery, the bracelet emulates functional properties, playing with shapes and objects found in useful everyday DIY equipment. The bracelet is charged with the signature subversive wit prevalent throughout the work that the Chapman brothers are recognised and known for.
The American sculptor and founding father of artist jewellery, Alexander Calder's (1898-1976) ingenuity came through in the personalised items he made and gifted to loved ones. He was famous for sneaking down to the kitchen early in the morning while staying with friends, to later present his host with a silver necklace that he had hand beaten from the contents of the cutlery drawer. Often he would incorporate the recipient's initials, manipulating them into different shapes. Of the approximately 1800 unique pieces of jewellery Calder created by hand, many of these, including brooches, earrings and rings, incorporate the intended wearers name or initials.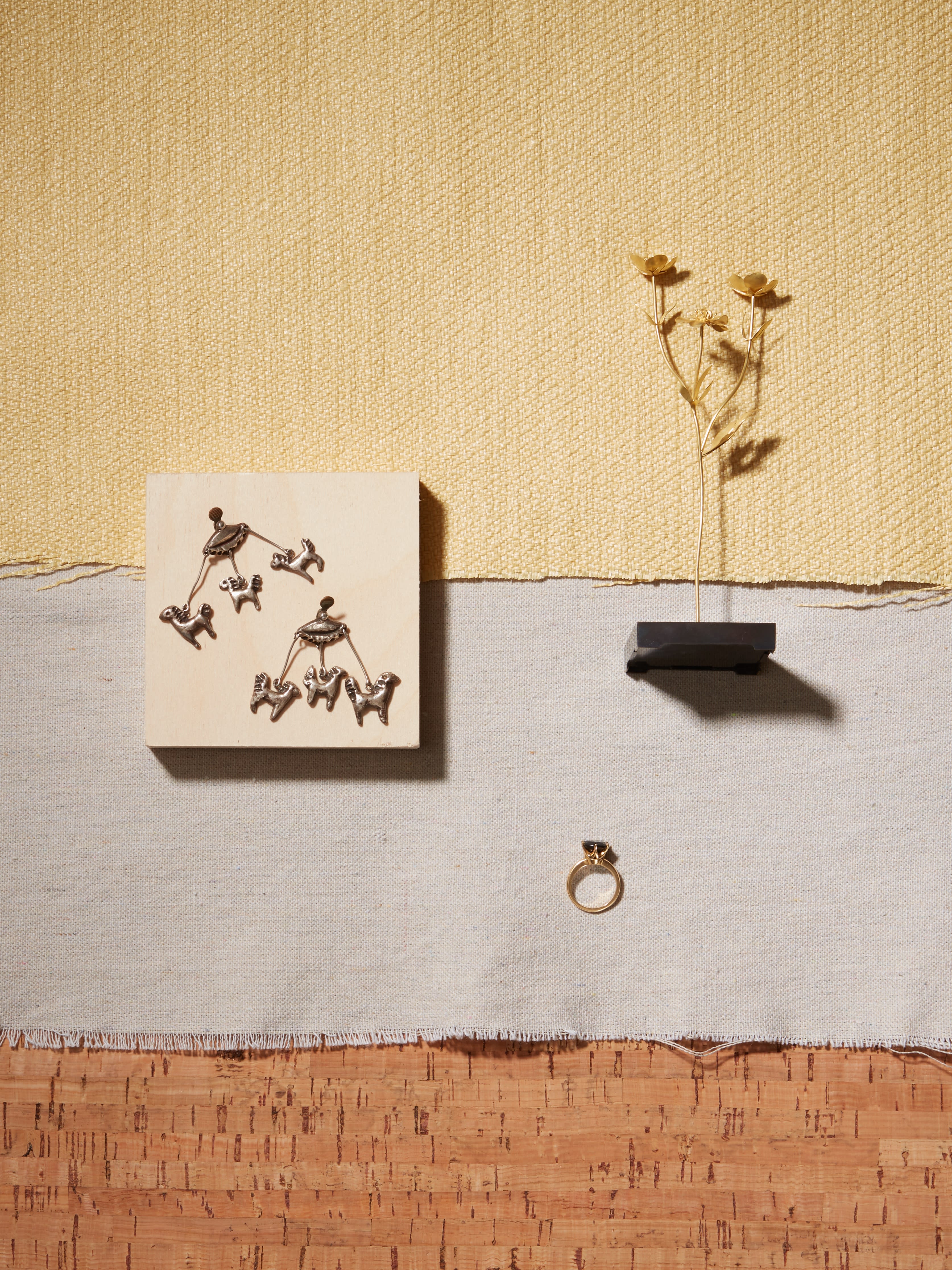 Left: Line Vautrin, Carrousel Earrings, c.1945, bronze with clips on reverse, 4.5 x 5.3 x 0.7 cm, right: Christopher Thompson Royds, Against Nature: Buttercup Sculpture, Earrings & Pendant, 2019, 18k gold and diamond, unique within a series of 5; bottom: Rob Wynne, Pebble Ring, 2013, 3k diamond cut fish tank pebble with 18k gold setting, pebble diameter: 1.0 cm.
In 2013, Louisa Guinness Gallery commissioned New York based artist Rob Wynne (b.1950) to create a piece of jewellery for the gallery's exhibition Interpreting Stone. In response to the call to action, Wynne chose to use a stone from the bottom of his fish tank. He had the valueless stone faceted and polished like a precious gem, and then claw set in 18k gold. In his artistic practice Wynne pushes the boundaries of kitsch and beauty, sappiness and profundity, in the many mediums in which he works.
"When I started to make jewellery, I thought of it as a way to scale down my work and think about intimacy."
- Rob Wynne
Alternatively, echoes of nostalgia are legible in the jewels of the decorative artist Line Vautrin (1913-1917). Known as the Poetess of Metal, Vautrin was born into a family of Parisian metalworkers and learnt to cast and gild at a very young age, designing her first pieces in her early 20s after a brief collaboration with Elsa Schiaparelli.
Her eclectic production of jewellery and objects is beautifully handcrafted under the heavy influence of nature and ancient hieroglyphics, often characterised by their original way of 'hanging' or through the use of her famous 'talosel'. Vautrin, without a doubt, specialised in the non-conventional, gaining great popularity after WWII due to her whimsical themes which allowed her public to escape from a crude and tragic reality. They could be transported to a romantic and imaginary world as exemplified in her playful Carousel earrings depicted below.
For British artist jeweller Christopher Thompson Royds (b. 1978), the key to his work is the rebirth of increasingly threatened flowers found in hedgerows and verges, in the margins between the wild and the cultivated.
Springing phoenix-like from the ashes, Thompson Royds seeks to redress the balance of these often overlooked plants, immortalising them in his Against Nature series. Each flower is handmade in gold sheet and wire; celebrating them and drawing attention to their sculptural qualities. However, Midas's touch also traps them in a moment; they are unchanging and become at once both natural and unnatural.
If you are interested in artist jewellery from The Sentimental, please get in touch with us by email or at +44 (0)207 494 4664.