Louisa Guinness Gallery is pleased to present Artist's Jewellery, a group exhibition of new works by Tarka Kings, Sue Webster, David Shrigley, Christopher Thompson Royds, Nic Fiddian Green and Rolf Sachs opening Friday 8th October.
Thrilled to finally open our doors and welcome our collectors, we present the culmination of work by some new gallery artists from a broad spectrum of styles; several turning their hands to jewellery for the first time.
True to LGG's mantra, each work is presented as a complete piece in itself, presented as stand-alone sculpture. These small jewels double as art pieces to wear and art pieces to view.
In the case of acclaimed sculpture Nic Fiddian Green, his pendants cast in both gold and silver have been created with the same sense of nobility and life as his large-scale work. Both jewel and sculpture, when the work is not being worn, it rests in a dedicated stand.
For British artist Tarka Kings, her Unstrung Mandolin pendant is a meditation on the silence and stillness of her usually musical house in the first few months of lockdown. Rendered in 18k gold, and artfully assembled, the heart of the instrument delicately spins, a whimsical detail that evokes the feeling of a music box. This project was provoked by a response to a Portrait exhibition at Chatsworth House where Kings chose to present her portrait of the Duke and Duchess of Devonshire in a small gold framed drawing, serving as a pendant. With the taste for jewellery whetted, she developed new ideas over the next 18 months of lockdown, working closely with the gallery and with design help from her friend, Susanne Kapoor.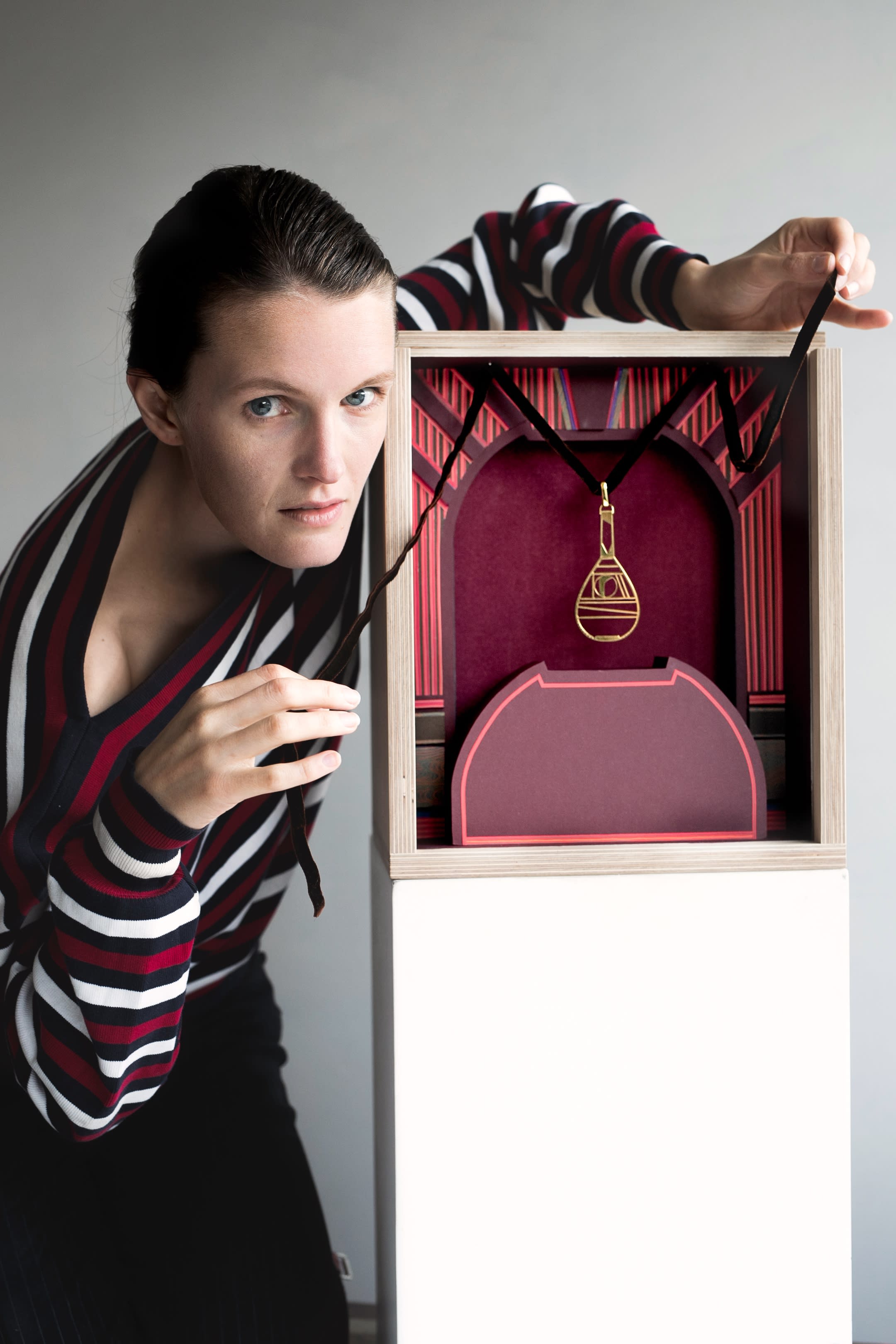 Unstrung Mandolin by TARKA KINGS AND SUSANNE KAPOOR IN COLLABORATION WITH LOUISA GUINNESS, 2021, 18k gold, edition of 5
'I was confined in a sort of prison, but every artist imprisons themselves. I've always made something out of nothing. Give me some toothpicks and I'll make my Matchstick Cathedral'
- Sue Webster
Like Kings, Sue Webster's Spider Series shares a response to the first few months of lockdown, uniquely shaping a selection of new works in silver conceived as chasing each other around the body, all of them imbued by Webster's core punk sensibility and the domesticity of her surroundings - at home on a neck or scurrying on a shelf.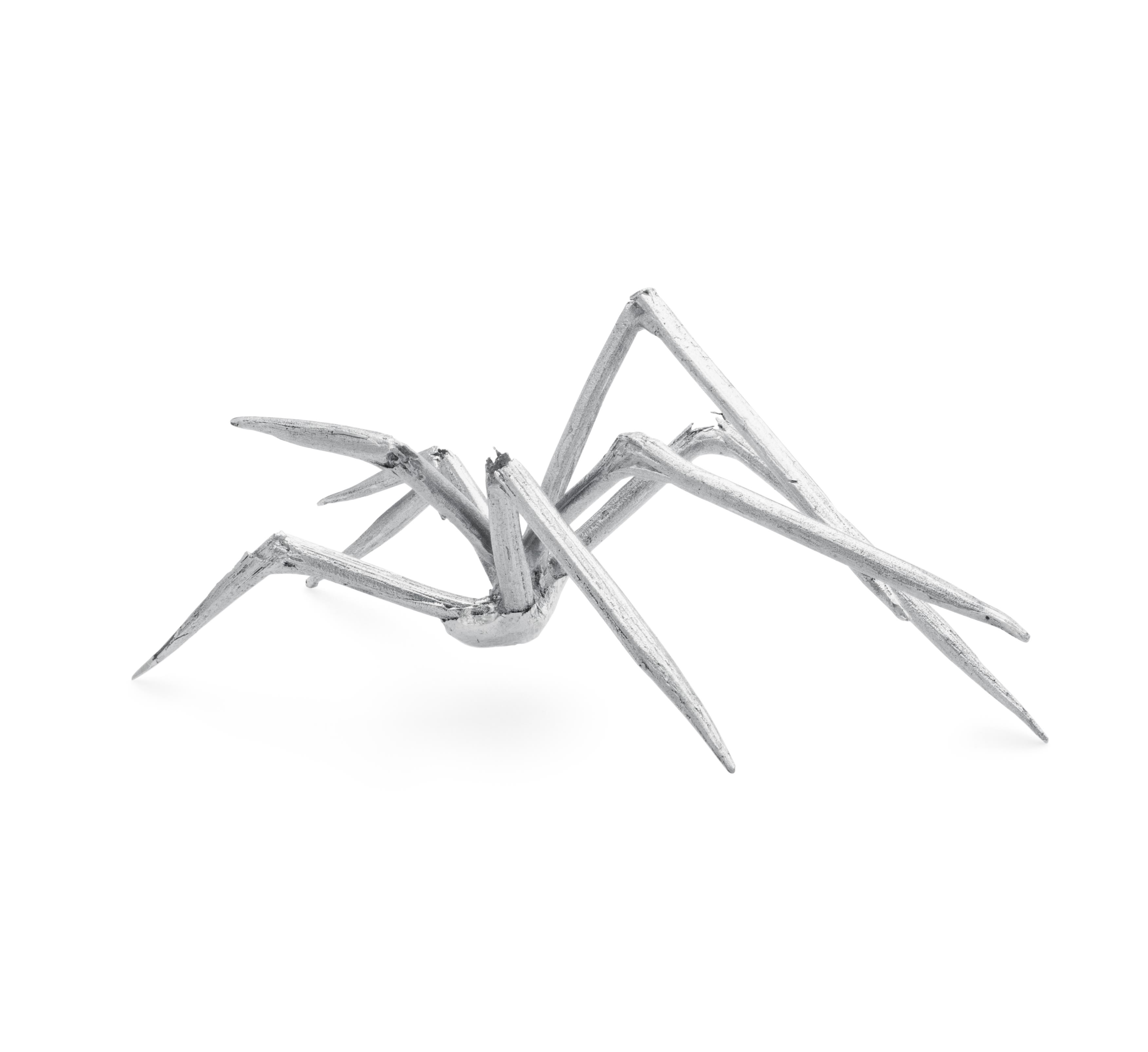 matchstick spider by sue webster, 2021, silver, edition of 10 made in collaboration with louisa guinness
For British art staple David Shrigley, his Companion pendants are a response to a self-imposed challenge of scale. Maintaining the tactility of his fingerprints by forming wax models cast in silver and gold, he has created an array of unique figures that progressively get smaller and smaller.
COMPANION PENDANTS BY DAVID SHRIGLEY, 2021, SELECTION OF PENDANTS IN SILVER, blackened silver, GOLD PLATED SILVER AND 18K GOLD, in collaboration with louisa guinness
'Rolf's brain is exploding with creativity and he is quick to respond to a jewellery challenge. This work is typical of his genius, practicality and sense of humour in equal measures'.
- Louisa Guinness

For Swiss artist and designer Rolf Sach's, his Unchained Necklace fits into his internationally renowned multidisciplinary practice with ease. Reflecting an underlying philosophy that draws upon collective memory, the chain plays upon our perception of reality. Created with ready-made fastenings in mischievous combinations of gold, silver, and vermeil, the wearer is unaware of which components are which material, a game in which they must endeavour to guess which is which.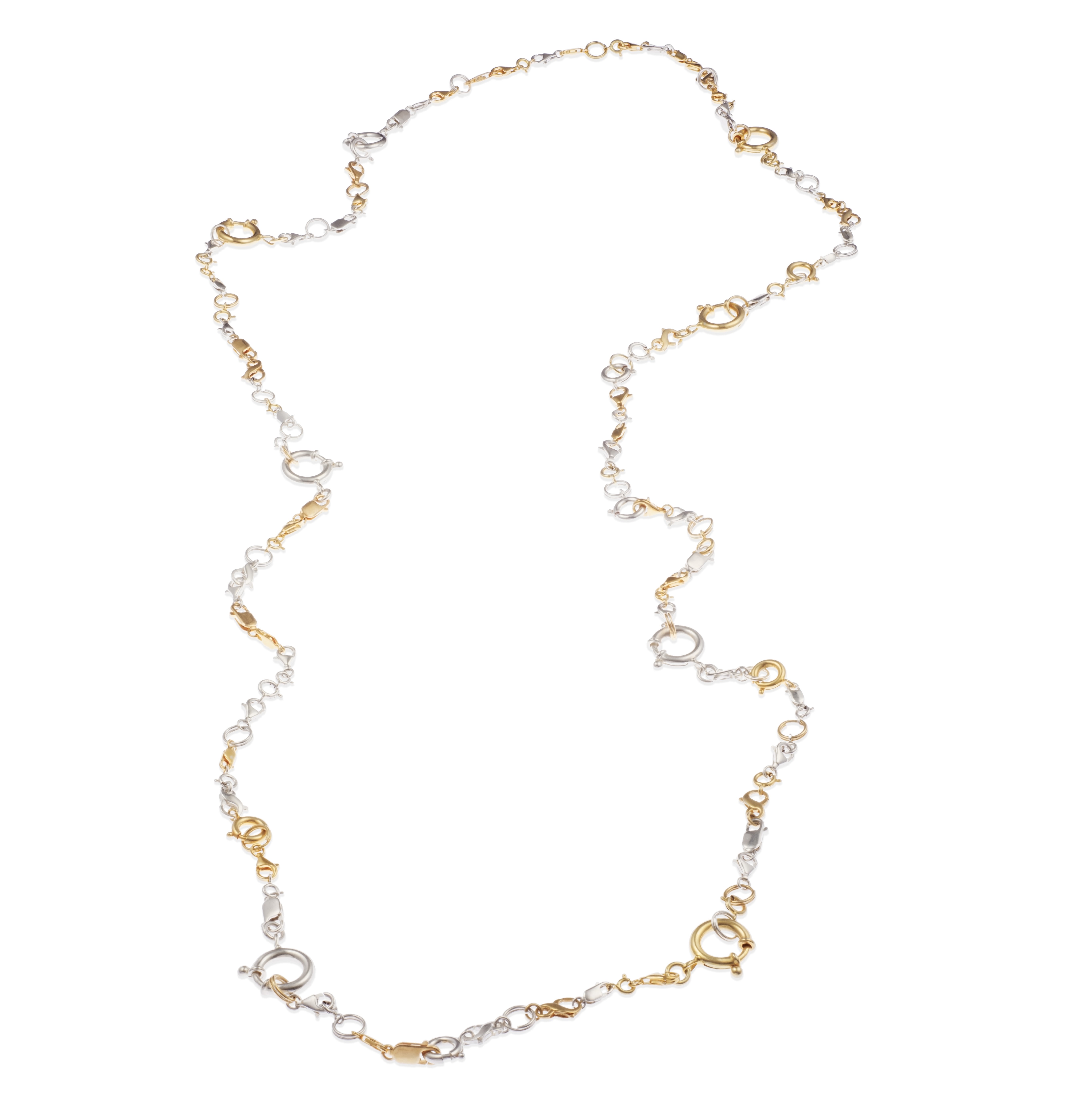 Unchained necklace by rolf sachs, 2021, ready made fastening in silver and vermeil with two 18k gold clasps
Finally, for British Contemporary Jewellery Christopher Thompson Royds' 18k gold sculptures are presented as a continuation of his Against Nature series, immortalizing the increasingly threatened flowers found in hedgerows and verges. With the ability to pluck them from their stems, his sculptures morph into earrings, pendants and pins, a process that harkens back to the act of picking wildflowers on a country walk in Summer and a practice that truly is one of both sculpture and jewel.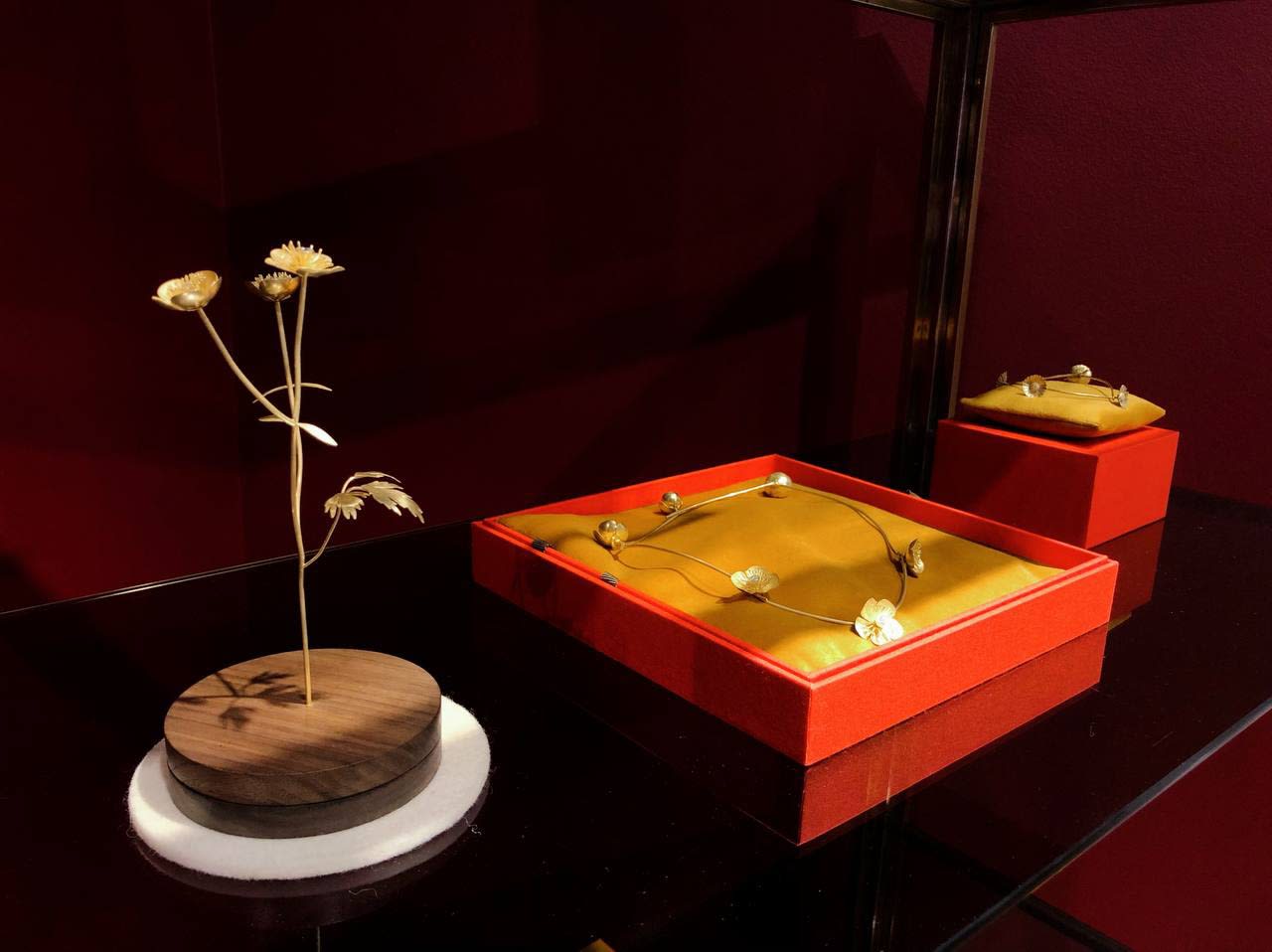 continuation of against nature series by christopher thompson royds, selection of pieces in 18k gold with diamonds
Without a doubt, this selection of recent artist jewellery weaves connections that vary from the quiet and contemplative to the playful and irreverent. Finding common ground in their intention, each work has been created with intimacy in mind, whether it be in the act of creating or in its dual function as adornment and small sculpture.