Inanimate objects are not just the key to enabling our day-to-day routines, but they have also played a vital role in their pictorial representations ever since the age of antiquity. From their symbolic nature to the attributes that distinguish a mythological God from another within one glance, without these representative forms it would make for an impossible task.
Representing the beauty and importance of objects became a necessity which evolved into a genre in and of itself during the 16th century. The pictorial still life painting was the perfect excuse for artists to show off their immaculate technique when depicting complex textures altogether in an inexhaustible repertoire of light, shapes and colours. Often these paintings were commissioned and collected, viewed as a valuable acquisition; however, as time progressed, fine art movements and the purpose of the still life painting had also shifted.
The artistic movements of the 20th century embraced ideas of combining found objects to convey the question of the representation of space on a painted surface. Artists such as Pablo Picasso and Marcel Duchamp started the desacralisation of artworks by inserting components taken from the real world into their production. The inclusion of material objects on a painted canvas enabled a dialogue between the tangible 3D forms and the painted 2D surface, reflecting the intersection of surrealism and reality.

Our latest online exhibition The Ordinary features a selection of works by artists whose creativity has led to the transformation of everyday items into unique and meaningful pieces of wearable art, following the legacy of all the New Realists of the 1960s who identified the best approach to a materialistic reality was to iconize objects, transforming them into the sole protagonist of any means of expression.
Left:
Michael Craig Martin,
Light Bulb Earrings,
2008, 18k yellow & white gold, incised with the artist's initials, numbered and hallmarked. 5.2 x 2.9 x 0.01 cm (each), 6 g, edition of 25 + 5 AP in collaboration with louisa guinness gallery. Right:
Gavin Turk
,
Ceremonial Biscuit, Large Pendant
, 2014, silver with suspensory loop on reverse, incised with the artist's signature, numbered & hallmarked. 6.3 x 6.3 x 0.5 cm, chain length: 56 cm, 198 g edition of 8 + 2 AP in collaboration with louisa guinness gallery.
"I thought the objects we value least because they were ubiquitous were actually the most extraordinary."
- Michael Craig-Martin
A leading figure of British conceptual art, Michael Craig-Martin (b. 1941) developed his distinctive bold outlines in the 1990s after shifting from earlier works with ready-mades and sculpture to a richer variety of media including painting, drawing and even animations. The Irish born artist is best known for his outline drawings of everyday objects. Taking ordinary household items such as the vacuum cleaner and the lightbulb, abstracting them in vivid colours into simple line drawings and sculptural forms.
Louisa Guinness Gallery approached Craig-Martin to make jewellery in 2007. The artist's initial idea was to make handcuffs that would be split and could fit around each wrist as a bracelet, but with the option of also being linked. This project is still work in progress, a good example of how something can look great on paper but loses impact once it is made as a prototype and begins to interact with the body. The second idea became a gallery icon, a light bulb that would fit right over the head, only to be followed by a matching set of earrings. They have no fixings; rather, their shape - modelled on the form of a small old fashioned incandescent light bulb – pierces directly through the ear like a giant hoop.
For British artist Gavin Turk (b. 1967), the essence of his work does not rely on the capacity of the human psyche, but on his own capacity to find the aesthetic virtues of the recycled Art-Historical Icon and the use of everyday items like rubbish, among many other pioneering forms of contemporary sculpture. Turk's practice explores issues of authorship, authenticity and identity. Deeply concerned with the myth of the artist and the authorship of a work, Turk's engagement with this modernist, avant-garde debate stretches back to the ready-mades of Marcel Duchamp. The ordinary can be easily found in his work, as Turk is well known for finding beauty in the transient objects most of us simply discard. Focusing on a nibbled Rich Tea biscuit and discarded apple cores, he continues to explore the beauty and significance of familiar, disposable objects.
The Rich Tea biscuit first emerged in Turk's work when he produced a limited edition of signed, real Rich Tea biscuits for an Art Car Boot Fair organised by a group of his friends. Turk views tea and biscuits as an essential part of life in Britain, a tea-drinking nation - as much a part of the cultural landscape as John Constable, Henry Moore and William Morris. From tea-time fixture to artwork, it has become a treasure and a jewel. While sculptural, this life-size biscuit cast in silver and 18k gold can be worn around the neck as a pendant when suspended, and its symbolic weight is matched by its literal weight. Again, the ultimate preciousness gold, the most precious of all metals, marks a stark contrast with the unvalued, partially eaten biscuit.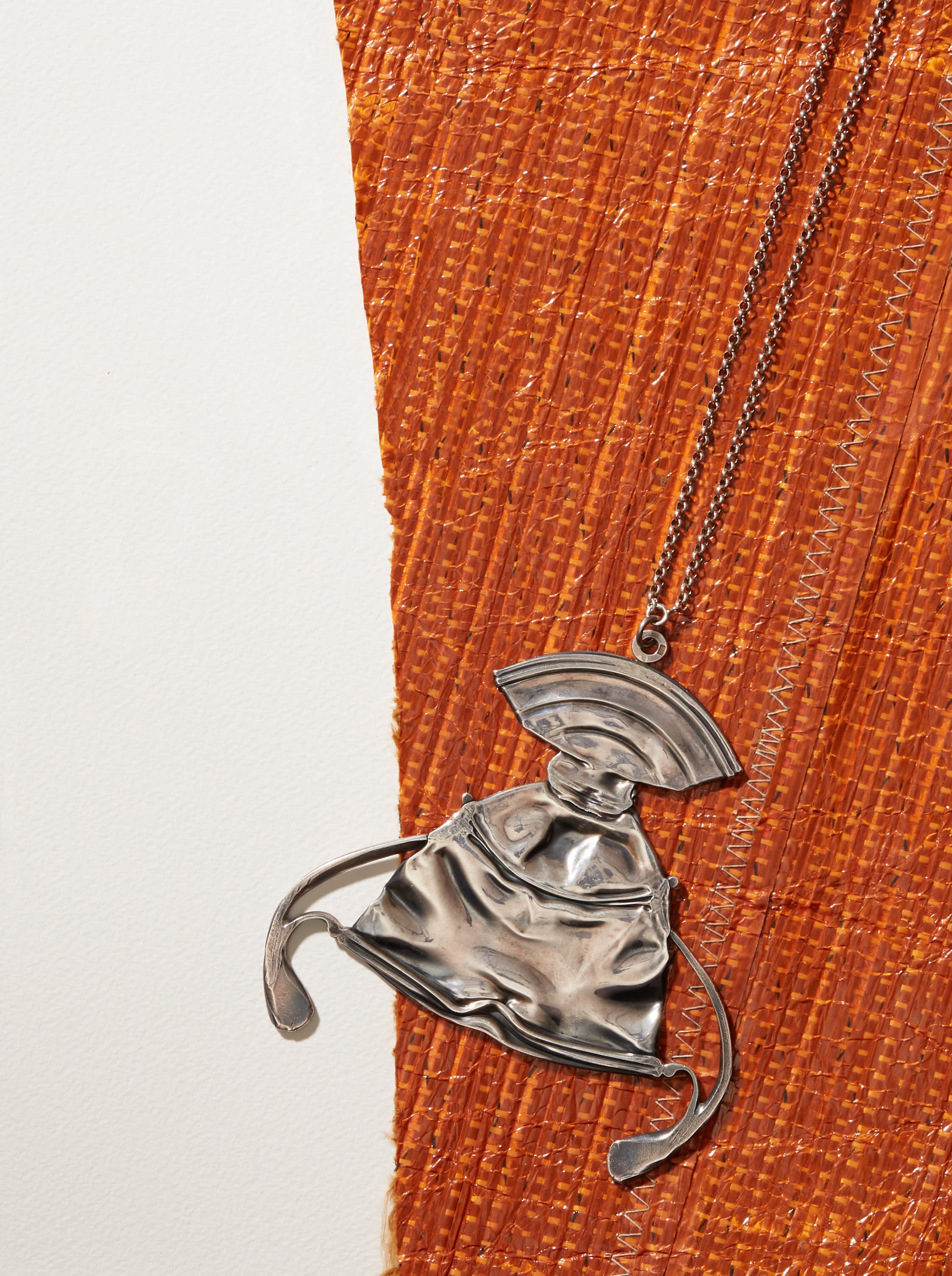 Cornelia Parker, Fallen Trophy, Medium Pendant,

2011, silver with suspensory loop on top and chain. Hallmarked on the reverse. Pendant: 10.5x 12.0 x 0.2 cm; Chain: 68 cm, 80 g. Unique piece in collaboration with Louisa Guinness.



Cornelia Parker (b. 1956) is an English sculptor and installation artist whose early installation works were imbued with poetic innuendos linked to the fragility of human experience. Cold Dark Matter: An Exploded View (1991, London, Tate) is the restored three-dimensional volume of a garden shed exploded by the British Army at the request of the artist. The surviving fragments, suspended from the ceiling and lit by a single bulb, create a dramatic effect and cast shadows on the gallery's walls. Parker worked not only with the altered scale and substance of things, but also with the meaning conveyed by found objects. The Maybe, an exhibition made in collaboration with the actress Tilda Swinton (b. 1960) in 1995 (London, Serpentine Gal.) focused on the impressions that one has when confronted with the belongings of famous people. Parker selected curiosities from various museums, including Turner's watercolour box, Queen Victoria's stockings and Sigmund Freud's blanket, in order to elicit free associations from the beholder. Swinton was herself on display, asleep in another glass case. Parker's aim was not merely to question the power of relics, but also to create a mental route that triggers unexpected associations.
The Fallen Trophy series was created through a process similar to crushing objects with a steamroller; by flattening found silver cups and suspending them upside down on a silver chain. The silver trophies were meticulously sourced, as Parker finds the potential of silver pieces is higher once their meaning as everyday objects has been eroded, the cup for 'Best Bitch' being the first sold.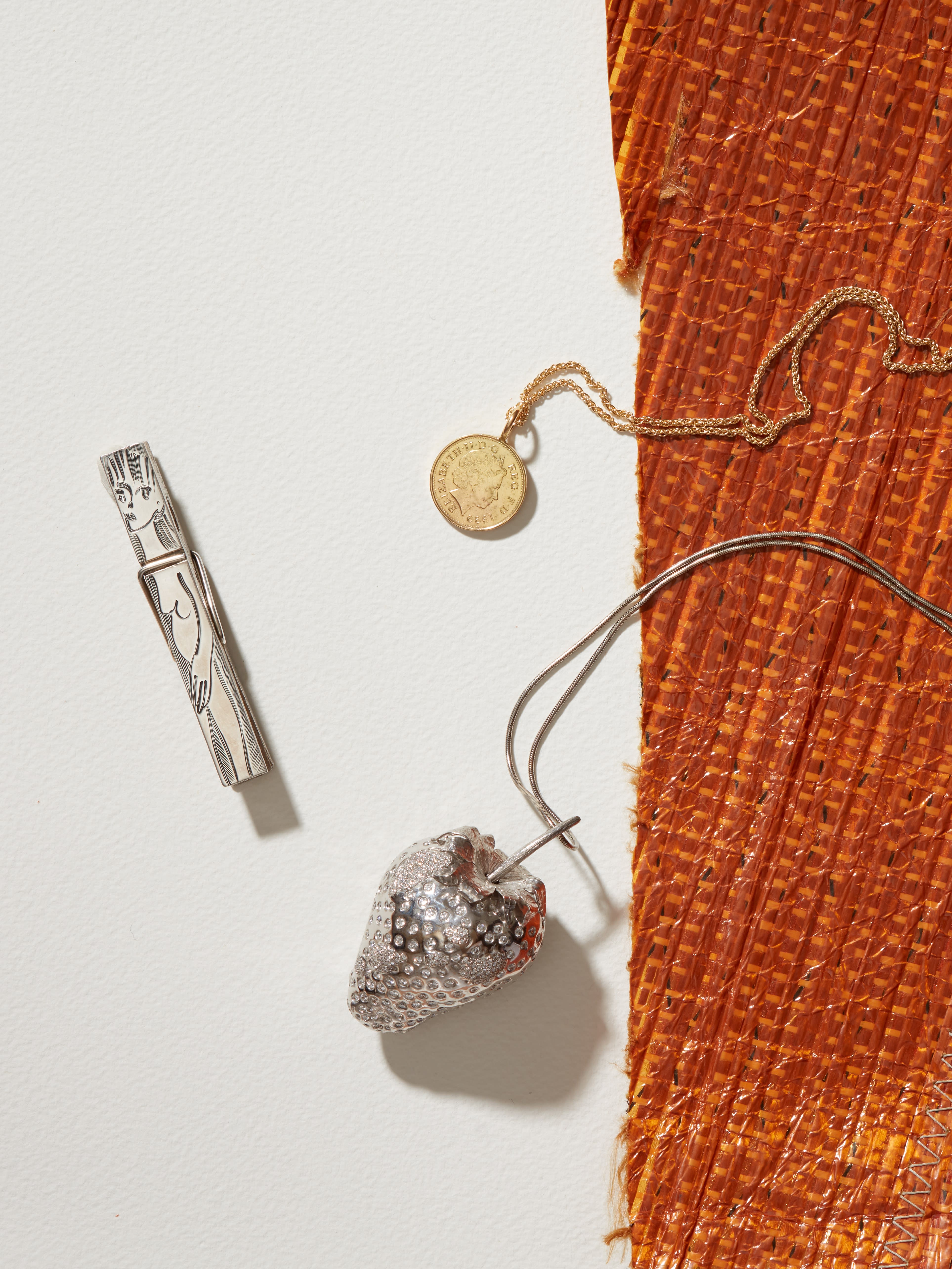 Left:

Annie Morris

,

Peg

, 2014, silver with hand-painted box. Peg: 7.2 x 0.9 x 1.8 cm; Box: 7.0 x 14 x 3.5 cm; 65 g. Unique within a series in collaboration with Louisa Guinness. Upper:

Rob Wynne

,

Penny Pendant

, 2009, 18k gold with suspensory loop on top. 1.9 x 1.9 cm. Edition of 10. Lower:

Marc Quinn

,

Frozen Strawberry Pendant

, 2007, 18k white gold with diamonds and chain. 6.0 x 3.4 x 3.3 cm; 96 g, edition of 10 + 4 AP in collaboration with Louisa Guinness Gallery.



Peg is British artist Annie Morris' (b. 1978) debut foray into the world of artist-made jewellery, following the same line of her highly acclaimed 2006 project commissioned by Christopher Bailey, in which Morris created a dress made out entirely of individually painted wooden clothes-peg for Burberry.
A graduate of Central Saint Martins, École des Beaux-Arts and the Slade, Morris' work explores life at home, loss and memory and, in this case,continues the artist's fascination with objets trouvé adding a new perspective to one of her most recurring motifs. In her current work, Morris draws our eye to the beauty of the peg in its singular, timeless and universal form, preferred by her due to its "regularity and simplicity", which acts as a quiet and humble symbol of domesticity that can be appropriated in any way the wearer chooses; as a pendant, a brooch, a money clip and anything in-between. Each piece is engraved with a unique female figure on each side, drawn by Morris, and each female form lends itself to the shape of a peg.
In the case of British artist Marc Quinn (b. 1964) his wide-ranging oeuvre portrays a preoccupation with the mutability of the body and the dualisms that define human life: spiritual and physical, surface and depth, cerebral and sexual. Using an uncompromising array of materials, from ice and blood to glass, marble or lead, Quinn develops these paradoxes into experimental, conceptual works that are mostly figurative in form.
Louisa Guinness Gallery approached Quinn in 2007 to collaborate in making a piece of artist jewellery. Their first project together took inspiration from a large painting of a frozen strawberry hanging on the wall of the artist's workshop. A summer spent scouring the shelves of Marks & Spencer supermarket to find the perfect strawberry followed, with Quinn selecting the exact berry he wanted to use. The goldsmiths then took a mould from the chosen strawberry and cast the shape in two halves. Each of the 270 pips was removed and single brilliant-cut diamonds were painstakingly inserted in their place. The result is a perfectly beautiful fruit suspended on a rotating chain that sits nestled on the wearer's front. 'I like the form of the strawberry for a number of reasons, mostly because it's like a heart,' says Quinn. 'The strawberry is a refreezing of one of my frozen sculptures, only in another medium.'
When I started to make jewellery, I thought of it as a way to scale down my work and think about intimacy. All the iconography and some of the materials that I use reference my art
- Rob Wynne
After Louisa Guinness approached New York-based artist Rob Wynne (b. 1948) to commission his PEBBLE ring in 2013 for Guinness's 'Interpreting Stone' exhibition, his jewellery has taken many forms. He has made pieces shaped like octopuses and spiders, made a ring cast from his own finger, and, in this case, Wynne created a pendant in the guise of a solid gold penny and a solid gold cent in contrast to normal legal tender which is made from bronze shifting the material value of this seemingly ordinary object.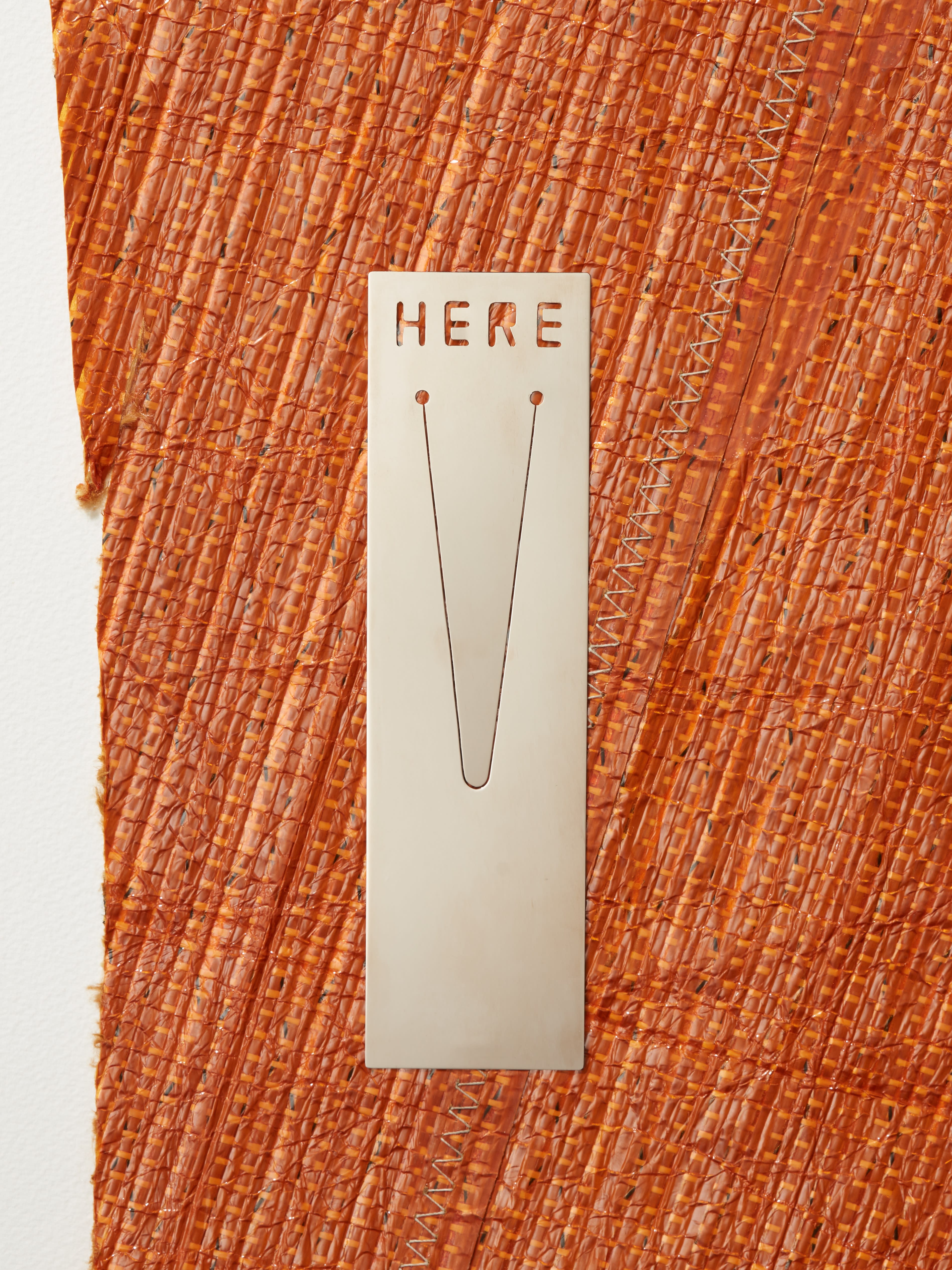 Ed Ruscha, Here Bookmark

, 2008, 18k white gold with dedicated felt pouch, bookplate and signed certificate. Incised with the artist's signature, numbered & hallmarked. 16.5 x 4.5 cm, 33 g. Edition of 100 in collaboration with Louisa Guinness.
American artist Edward Ruscha (b. 1937) has consistently combined the cityscape of his adopted hometown with vernacular language to communicate a particular urban experience. Encompassing painting, drawing, photography, and artist's books, Ruscha's work holds the mirror up to the banality of urban life and gives order to the barrage of mass media-fed images and information that confronts us daily.
Rusha's bookmark project with Louisa Guinness Gallery was a very close collaboration, as remarked by Louisa Guinness:
Ed's work has always been some of my favourite. I love the landscapes, the light, the banal everyday objects infused with a witty comment or wise words.
Ed knew exactly what he wanted to do – create a bookmark – but wasn't quite sure how to achieve it. My goldsmiths advised and we sent quite a few parcels across America with different gauge metals and different versions of his much-appreciated drawing he had sent me by faxed me earlier. I liked the humour of his bookmark. What else could a bookmark say other than 'Here'?
We wanted to and present it in a very smart green felt pouch, and I spent a great deal of time visiting the ladies at the Royal School of Needlework at Hampton Court Palace, just outside London, making many versions. Finally, Ed was satisfied. When we added the gummed labels in the place of 'ex libris' labels with another of Ed's witty texts - 'This HERE book belongs to' - all was complete. Each piece was signed on the back by Ed and numbered as part of an edition of 100.