The realm of jewellery making is without a doubt highly complex, only approached by those fearless painters and sculptors wishing to open a new pathway within their own practice of artistic experimentation and expression. Intrinsic to the artist's nature is their need to constantly question the world around them. As the artist approaches the unfamiliar territory of jewellery making they also question the use of materials, preciousness of stones and modes of production. Often, they will incorporate unlikely materials outside of the traditional craft of goldsmithing. Artists accept and take on the challenge of selecting the perfect medium to communicate their ideas and concepts, fusing a strong bond between jewellery and art.
Our exclusive online exhibition The Handmade presents the works of 20th and 21st century artists who place value on time, patience and the joy of labour when producing their wearable sculptures. This is a concept that has taken on an entirely new meaning this year, as we now stay indoors. During this unprecedented situation where we will spend more time inside, life will slow down and afford us the chance to become reacquainted with using our hands to create.
I think best in wire.
- Alexander Calder
For the founding father of artist jewellery, American sculptor Alexander Calder (1898 - 1976), the handmade became a way of life and it was known that the artist was never without wire and a set of pliers in his pocket. Calder worked in several mediums, from large-scale to miniature, making intricately twisted sculptures, gouaches and sculptural mobiles. He also made approximately 1800 pieces of jewellery, each unique and each produced mostly in silver and brass by his own hand.

Many of Calder's jewellery pieces carry his distinctive hammer marks and riveted links, resonant of the piece's creation entirely by hand. They became the ideal and most personal gift to his clients, friends and mainly to his wife Louisa who arranged them on a wall to be viewed as works of art as she sat at her dressing table.
When we take away precious metals from the equation we are left with the raw materials, forms, shapes and unique iconography. It is in this moment that jewellery becomes an instrument for storytelling with the revelation of a personal narrative, secret or passion.
Louisa Guinness: Do you find a flower or leaf and make it into a jewel,
or do you have an idea for a jewel and then find the flower or leaf to fit?
Claude Lalanne: I find the flower first, from which I start, and then comes the idea.
Some small animals also feature in my jewellery: snakes, butterflies, lizards, crabs.
But nothing so big that it cannot fit on the jewellery.
Claude Lalanne, Flower Brooch XII, 2016, galvanised copper with pin, 8.2 x 7.2 x 1.5 cm, unique.
Claude Lalanne (1924 - 2019) successfully conveyed that passionate, poetic and often surrealist approach to nature without ever losing any delicacy. Lalanne's search for a true likeness is present in her jewellery pieces, all of which are enhanced by her ability to immortalise the beauty of the botanical world through her quirky inventiveness and skillful hands.
Aside from the use of moulds, much of Claude's success in both sculpture and jewellery can be attributed in part to her mastery of electroplating. This process allows the complete transformation of organic material into copper by running a current through a bath of copper sulphate. When the flora or fauna is submerged, the copper accumulates on the organic material, ultimately creating a perfect metallic replica of the original. Her studio is strewn with metallic fossils. She works intuitively by joining each component piece together and then heats them to obtain the familiar pinkish hue of the Lalanne finished copper.
In her own words, making jewellery from moulds and casts is a great challenge and always a delicate process. Even so, the complexity of the process never deterred her from gathering flowers, leaves, thorns or twigs from her own garden to sink them in a bath of sulfuric acid and copper sulfate. As a result, the delicate copper coating gave her botanical findings a new life as extraordinary jewellery with a very personal and distinctive touch.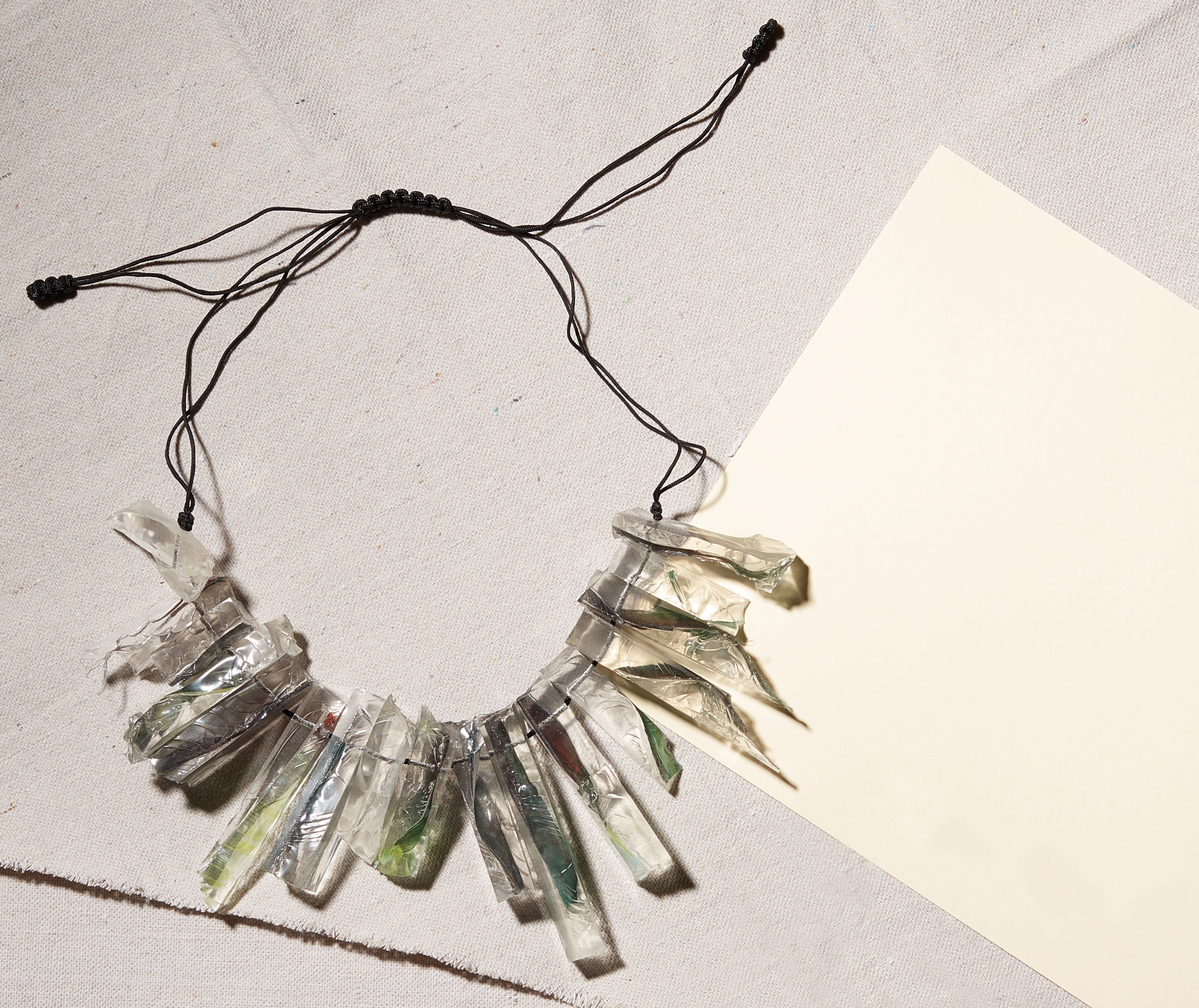 Ron Arad, Rocks Necklace VIII, 2016, silicon and silk, 19.0 x 22.0 x 2.0 cm, unique.
Artist, architect and designer, Ron Arad (b. 1951) began experimenting with jewellery making in 2003 when he first conceived his Hot Ingo earrings in collaboration with Louisa Guinness Gallery. Arad combined the material innovation of 3D printing with sintered polyamide, a technology traditionally used by engineers and designers to create prototypes and also employed silversmithing to create a series of earrings. Over a decade later, Arad presented three separate jewellery projects in his 2016 exhibition Ron Arad Rocks! at Louisa Guinness Gallery, namely his Rocks series of jewellery made completely by hand.
Arad's Rocks series of earrings, bracelets and necklaces were made from solid silicon rather than the precious stones the title suggested. He challenges the viewer's sensory perception and though the silicon is soft and pliable to the touch, each piece appears heavy and dangerously jagged; the effect is of bare shards of glass hanging close to the wearer's skin. With characteristic playfulness, the real weight and tactility of each piece is far removed from its appearance. Not until the viewer has the piece in their hands are they able to detect Arad's sophisticated manipulation of silicon. Initially resembling smashed and threaded glass, the wearer realises and can appreciate through touch that Arad has instead sliced off fragments of silicon to give the work its shard-like finish. The impression of opaque or coloured glass is created by dropping lengths of coloured or graphically patterned silk into the silicon, adding an ingenious layer to the optical illusion. Sculpted by the hands of the maker each work is uniquely different in shape, color and form.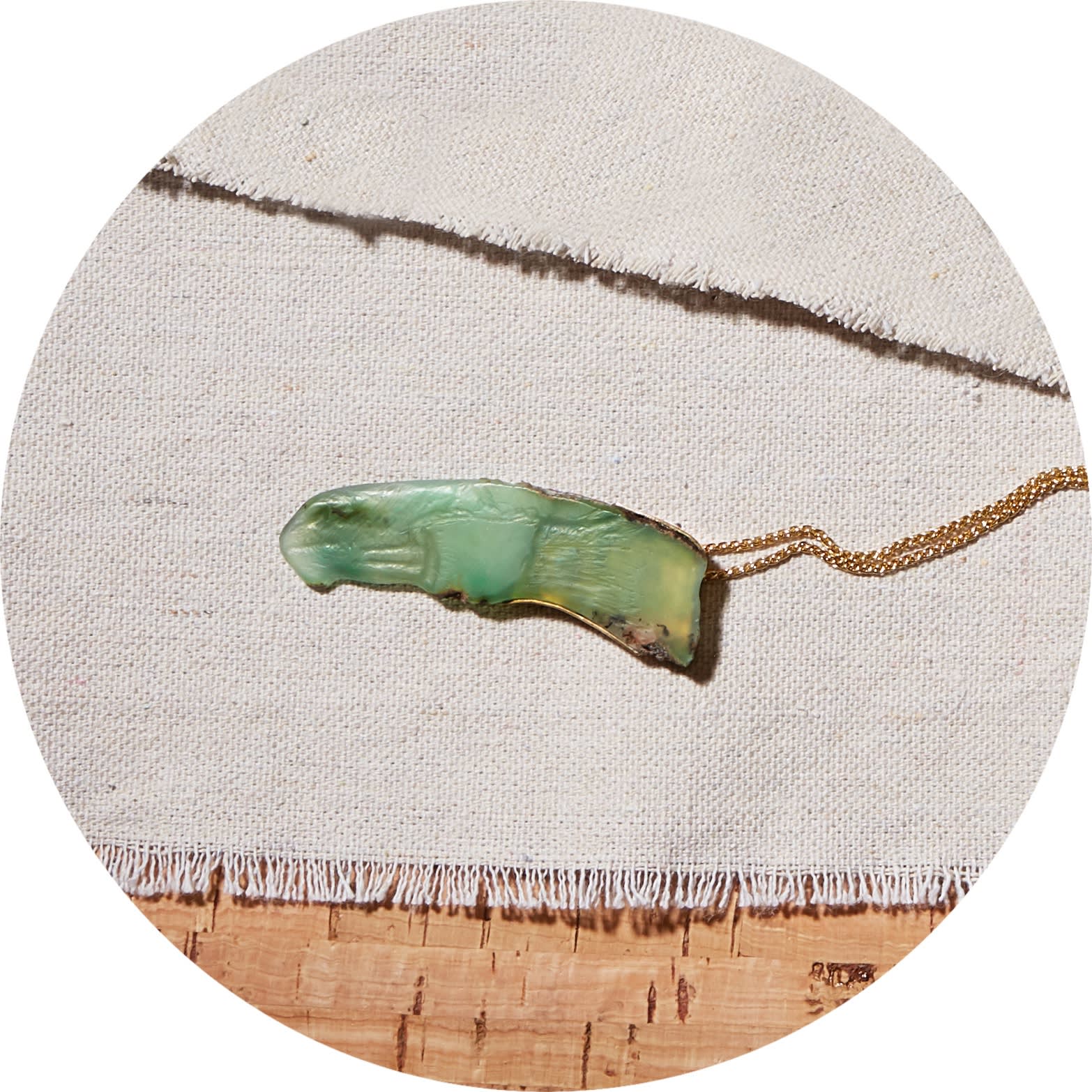 Nic Fiddian Green, Dawn Pendant, 2016, blue chrysomelanite, 18k gold plated and suspensory loop on reverse,
6.6 x 1.9 x 0.27 cm, unique.
British artist Nic Fiddian Green (b. 1953) is a renowned sculptor and draughtsman who specialises in equestrian forms and is known for his monolithic horse heads. Fiddian Green first began experimenting with the idea of 'wearable sculpture' in October 2015, producing a collection of carved-wax cast pendants in silver and gold in collaboration with Louisa Guinness Gallery with its debut at PAD London. In April 2016, the following year, Fiddian Green presented 29 pieces of jewellery. Working in wax, he created cufflinks and pendants cast in both gold and silver and then experimented by hammering a horse's head in 24k gold. He started carving precious stones for the first time in his practice, testing the boundaries of abstraction with lapis lazuli, amethyst, and opal. Though small in scale, these works imbued the same sense of nobility and life as his large-scale work and represented an important new step in the artist's journey through the carving process. Each work has been expertly and exquisitely sculpted to work successfully both as jewellery and small sculpture, independent of function. When the work is not suspended from the neck, it rests in its own dedicated stand.
Like Alexander Calder, Fiddian Green enjoys the hands-on application of the jewels – not something he can do very often with his sculpture, such is the grandeur of its scale. Making jewellery has also influenced Fiddian Green's practice, inspiring a series of small sculptures in 24k gold, using the same methods as for his jewellery.
From children making daisy chains to chains of office, jewellery is a language that can be used to express all sorts of narratives,
and this - the basis of my love for it.
- Christopher Thompson-Royds
Christopher Thompson Royds, Natura Morta: Buttercups Necklace, 2017, hand painted 18k gold with diamonds, magnet & original dedicated box, 16.2 x 16.2 cm, unique.
The jewellery of British designer Christopher Thompson Royds (b. 1978) explores the challenges of how jewellery can preserve the ephemeral beauty of flowers. We all know that the moment you pick a flower it begins to decompose and Thompson Royds seeks to capture this fleeting process in precious materials; gold, silver, diamonds that are known to last eons.
Thompson Royds is well known for his Natura Morta collection of hand-painted wild flowers, forever immortalised in hand cut layers of silver and 18k gold. What many may be unaware of, is that this series was preceded by an earlier iteration where the jeweller directly pressed dried flowers onto precious materials rather than painting them as he does today. In 2012 Thompson Royds first began exploring flowers as a motive in jewellery, prior to this he had never used them as inspiration for his jewellery. After a trip to the Natural History Museum's Hans Sloane Herbarium and influenced by the 18th century folio of specimens the naturalist and collector gathered from the Caribbean, Thompson Royds could not believe how the flora looked almost as fresh as when it was picked. He understood that these specimens could have only survived due to not having been exposed to light, which would have caused them to naturally discolour and ultimately fade. Therein lies Thompson Royds' dilemma; once the jewel is exposed to light, it is destroyed. However, if the jewel is left undisturbed and unexposed to external forces then one is able to preserve the piece for posterity.
If you are interested in artist jewellery from The Handmade, please get in touch with us by email or at +44 (0)207 494 4664.