English sculptor and installation artist Cornelia Parker has shot at objects, thrown them from cliffs, blown them up and rolled over them with a steamroller. For Thirty pieces of Silver, she took more than a hundred silver objects, including plates, spoons, candlesticks and trophies, and had them crushed by a steamroller. The items were then arranged into 30 disc-shaped groups and suspended about a foot from the floor by hundreds of finewires.
Parker explains: 'Silver is commemorative, the objects are landmarks in people's lives. I wanted to change their meaning, their visibility, their worth. That is why I flattened them, consigning them all to the same fate. As a child I used to crush coins on a railway track – you couldn't spend the money afterwards but you kept the metal slivers for their own sake, as an imaginative currency and as physical proof of the destructive powers of the world. I find the pieces of silver have much more potential when their meaning as everyday objects has been eroded.' 1
Fallen Trophy, a pendant, was created through a similar process; by flattening found silver cups and suspending them upside down on a chain. The silver trophies were meticulously sourced, with the cup for 'Best Bitch' being the forst sold.
1 Quoted in British Art Show, exhibition catalogue, p.88. Hayward Gallery, London 1990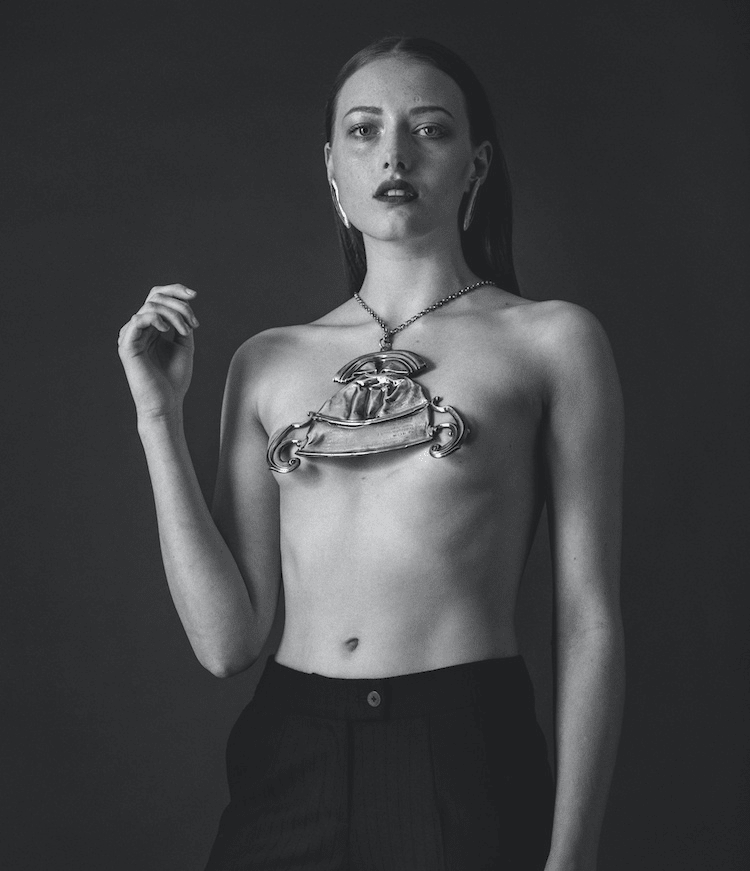 Fallen Trophy, 2011, Photographed by Alexander English