Gavin Turk was one of the first contemporary artists to collaborate with the Louisa Guinness Gallery. In 2004, the gallery published the 'Chewing Gum Series', a collection of cufflinks, necklaces, earrings and tie pins, fashioned from resin casts of masticated chewing gum, chomped by the artist himself.
Turk worked on the project with his late father, Geoffrey Turk, himself a well-known jewellery maker and designer. Geoffrey, in turn, worked in the studio of renowned British designer Andrew Grima in the 1960s, before starting his own operation.
Turk is known for finding beauty in the ordinary; in the transient objects most of us simply discard. Focusing on nibbled Rich Tea biscuits (what Oreo is to America and the Marie biscuit is to France, Rich Tea is to the UK) and discarded apple cores, he continues to explore the beauty and significance of familiar, disposable objects. Turk has painted apple cores on paper but also cast them in bronze and finished them with paint so they appear very true to life.
The Rich Tea biscuit first emerged in Turk's work in 2006, when he produced a limited edition of signed, real Rich Tea biscuits for an Art Car Boot Fair organised by a group of his friends. Having arrived at the sale with nothing to donate, he picked up a biscuit, took a large bite and, importantly, signed it with a pen. 'There you are,' he said. 'Twenty-five
quid each.'
Turk views tea and biscuits as an essential part of life in Britain, a tea drinking nation; as much a part of the cultural landscape as John Constable, Henry Moore and William Morris. A kind of 'Ruskinian' romanticism. But Turk's biscuits have a bite out of them.
Ceremonial Biscuit was the next stage in Turk's artistic evolution of the Rich Tea. From teatime accoutrement to artwork, it has become a treasure and a jewel. Whilst sculptural, this life-size biscuit cast in 18ct gold can be worn around the neck as a pendant where, suspended, its symbolic weight is matched by its literal weight. Again, the ultimate preciousness of the gold, the most precious of all metals, marks a stark contrast with the unvalued, partially eaten biscuit.
At the launch of this group of artworks, Ceremonial Biscuit was displayed under spotlight in a blackened room. It stood, grandly and importantly, with such presence in the room, like a lighthouse on a cliff face. Typical of Turk's artistic practice, the signature is a central part of the work. Clear and legible on the biscuit's face, although Turk is no metalsmith, each signature is hand-engraved by the artist. Ceremonial Biscuit was published in an edition of eight and was also available in silver. Turk has also created a reduced-scale version of the piece, entitled Taking the Biscuit, executed in gold or silver and also in an edition of eight.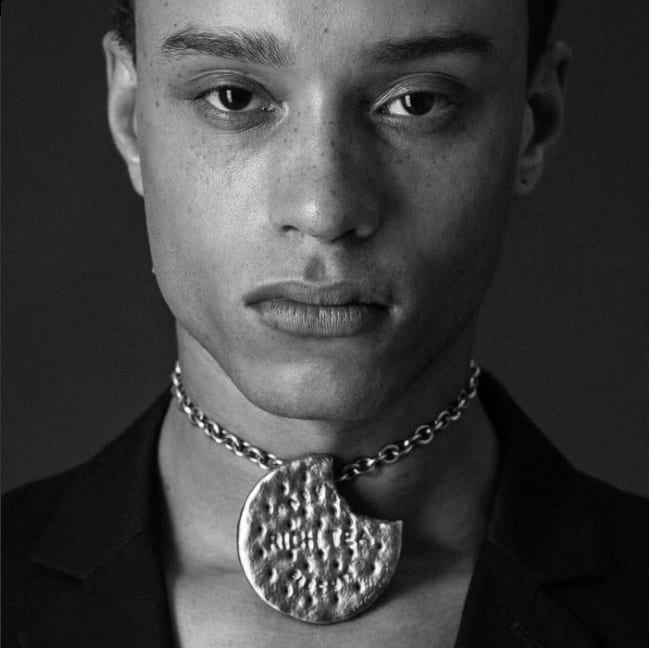 Ceremonial Biscuit, Large Pendant, 2014, Photographed by Alexander English