Louisa Guinness Gallery approached Quinn about making jewellery, and their frst project together took inspiration from a large painting of a frozen strawberry hanging on the wall of the artist's workshop.
A summer spent scouring the shelves of Marks & Spencer to find the perfect strawberry followed, with Quinn selecting the exact berry he wanted to use. The goldsmith then took a mould from the chosen strawberry and cast the shape in two halves. Each of the 270 pips was removed and single brilliant-cut diamonds were painstakingly inserted in their place. The strawberry was then 'dipped' in clusters of ice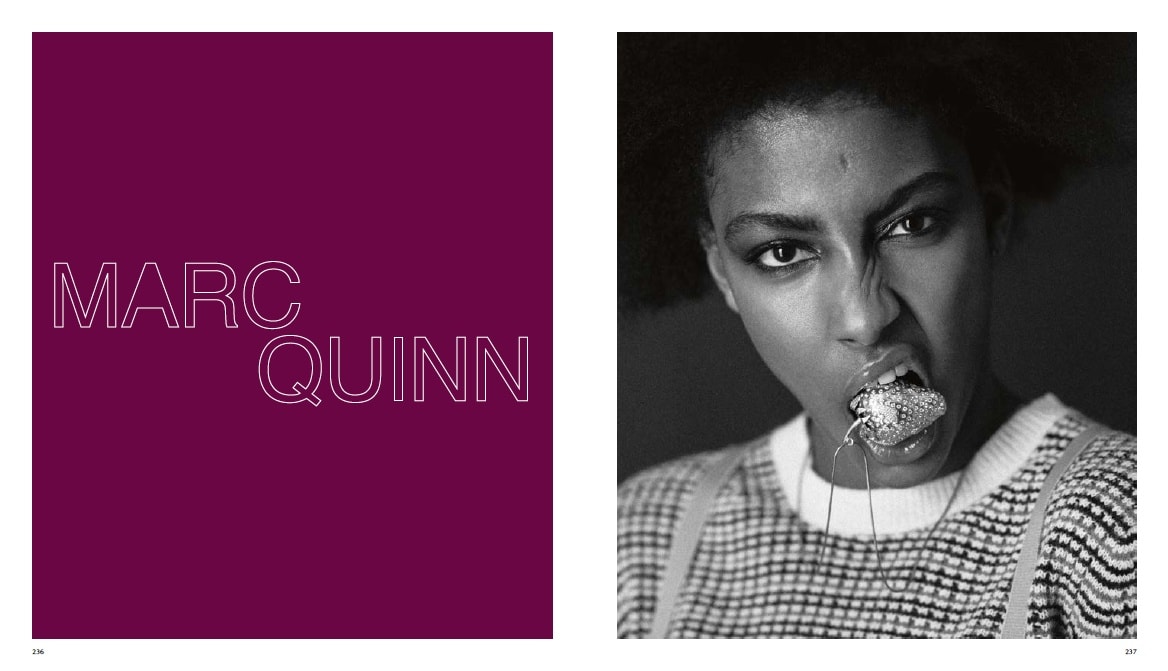 Above: Exerpt from Art As Jewellery, From Calder to Kapoor by Louisa Guinness (P. 237) featuring Frozen Strawberry, 2007, Necklace, 18k white gold with diamonds, 6 x 3.4 x 3.3 cm, edition of 10. Photograph by Alexander English.
created by a further 250 or so pave-set diamonds. In total, more than 560 diamonds were individually set, amounting to more than six carats. Not only is the intrinsic value of the gold unusually high for a jewellery piece of this type, but the hours spent setting the diamonds were also numerous. The result is a perfectly beautiful fruit suspended on a rotating chain that sits nestled on the wearer's front. 'I like the form of the strawberry for a number of reasons, mostly because it's like a heart,' says Quinn. 'The strawberry is a refreezing of one of my frozen sculptures, only in another medium.' Inspired by working in precious metal for his jewellery collaboration with Louisa Guinness Gallery, Quinn continued to work with the same goldsmith on another of his larger-scale sculptures, Siren, a solid-gold sculpture of Kate Moss practising yoga, completed in 2008.