Born in Pennsylvania in 1898, Alexander Calder was among America's great twentieth-century artists.
Calder worked in several mediums, from large-scale to tiny intricately twisted sculptures to gouaches and sculptural mobiles. In particular, he became known for his beautifully suspended mobiles. He also made thousands of pieces of jewellery, each unique and each produced by his own hand. To many, he is the founding father of the artist jewellers.
A Calder mobile seems dead and lifeless as it lies in its packing crate, the object coming to life when it is lifted and hung in position. Each piece he made, from jewellery to mobile sculpture, was designed to move, to be worn or to perform. As a result, the wearer of Calder's jewellery becomes a part of the jewel and plays an integral role in the spectacle.
Brass Necklace, 1950, photographed by Alexander English.
Calder started making jewellery as a small boy, crafting earrings and necklaces for his sister's dolls. It soon became a way of life and he was never without wire and a set of pliers in his pockets. Later, he often made jewellery for friends and clients within his artistic circle. Many pieces carried his distinctive hammer marks (recognisable to the trained eye and a useful means of identifying copies) and riveted links, resonant of the item's creation entirely by hand. In keeping with his intentionally uncomplicated approach to construction, Calder preferred to use non-precious materials instead of gemstones; rarely working in precious metal. Often, he used pieces of broken glass, stones or crockery.
Calder's jewellery was collected by art lovers and collectors, including an impressive roster of high-society names, but also by a wider less moneyed audience. Peggy Guggenheim was a great supporter of his art and wore his jewellery religiously. She commissioned a silver bedhead from Calder, with a pair of Calder earrings on one side and Tanguy earrings on the other, as part of the Peggy Guggenheim Collection in Venice. Mary Rockefeller 'required a little more elbow room' at modern art exhibitions when she wore her Calder necklace with heart and harp motifs that flared at her sides. Jean Lipman, an important folk art collector, and the well-known curator of MoMA, Dorothy Miller, were also amongst Calder's patrons.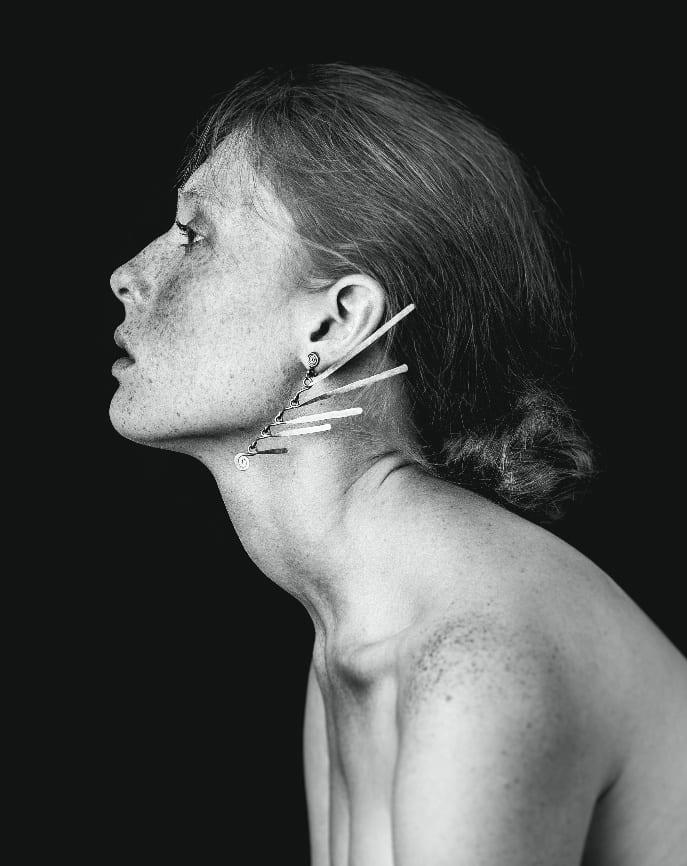 Brass Wire Earrings, c. 1942, Photographed by Alexander English.