When Blake was approached by the Louisa Guinness Gallery, the ambition was to encapsulate a piece of his art, literally, in an item of jewellery. Ideas were discussed extensively in Blake's remarkable studio, but despite hours of deliberation, nothing concrete emerged.
The spark eventually came courtesy of Peter's old 'Elvis' cufflinks. Blake is an Elvis Presley fan of the highest order; he collects memorabilia of all kinds but Elvis is a particular passion, and the artist has made several sculptures in celebration of the singer. Blake's battered silver cufflinks were inexpensive souvenirs from Graceland, shaped to the classic design that any man who dons a cufflink early in the morning will instantly recognise; the design works and the cuff chasing is limited.
Watercolour for cufflinks, 2008.
Blake agreed to revamp the cufflinks and make them his own. Working with the Louisa Guinness Gallery, the smallest ready-made glass watch face available was found. Circles this size were drawn out on a piece of paper and given to the artist. Blake painted hearts, targets and stars inside, and created a few tiny collages that were then set behind the glass face. A cufflink matching the design of the Elvis piece was made, although the battered sliver was replaced with 18ct gold. The swivelling bar at the back of the cufflink was replaced with a tiny gold spoon inspired by a large-scale piece Blake was working on at the time. Each watercolour was signed, and each was unique.
Another project found Blake exploring his appetite for collecting 'things'. Working with the gallery again, Blake assembled small collections of disparate objects that varied from elephants to crosses, to a collection of an imaginary chatelaine. He then looked at how these collections could be suspended from a silver chain and worn as a bracelet or necklace, rather like wearable collages.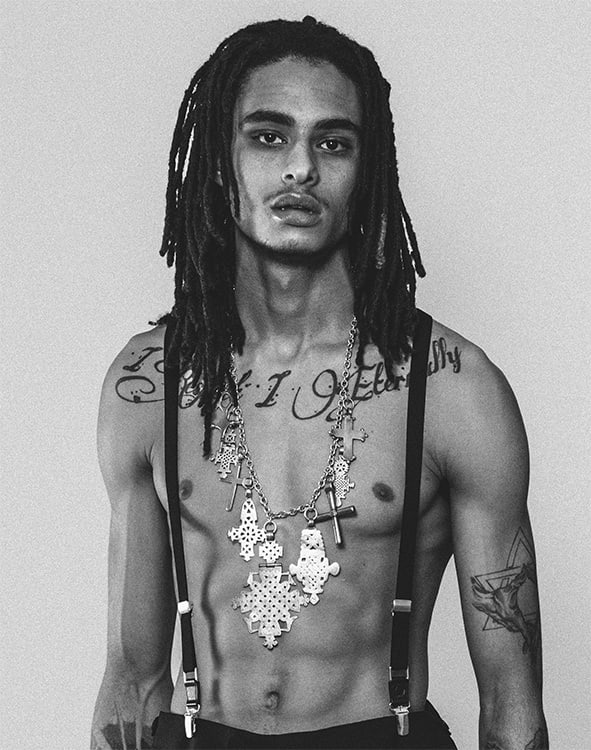 Collage Necklace, Crosses, 2010, Photographed by Alexander English.