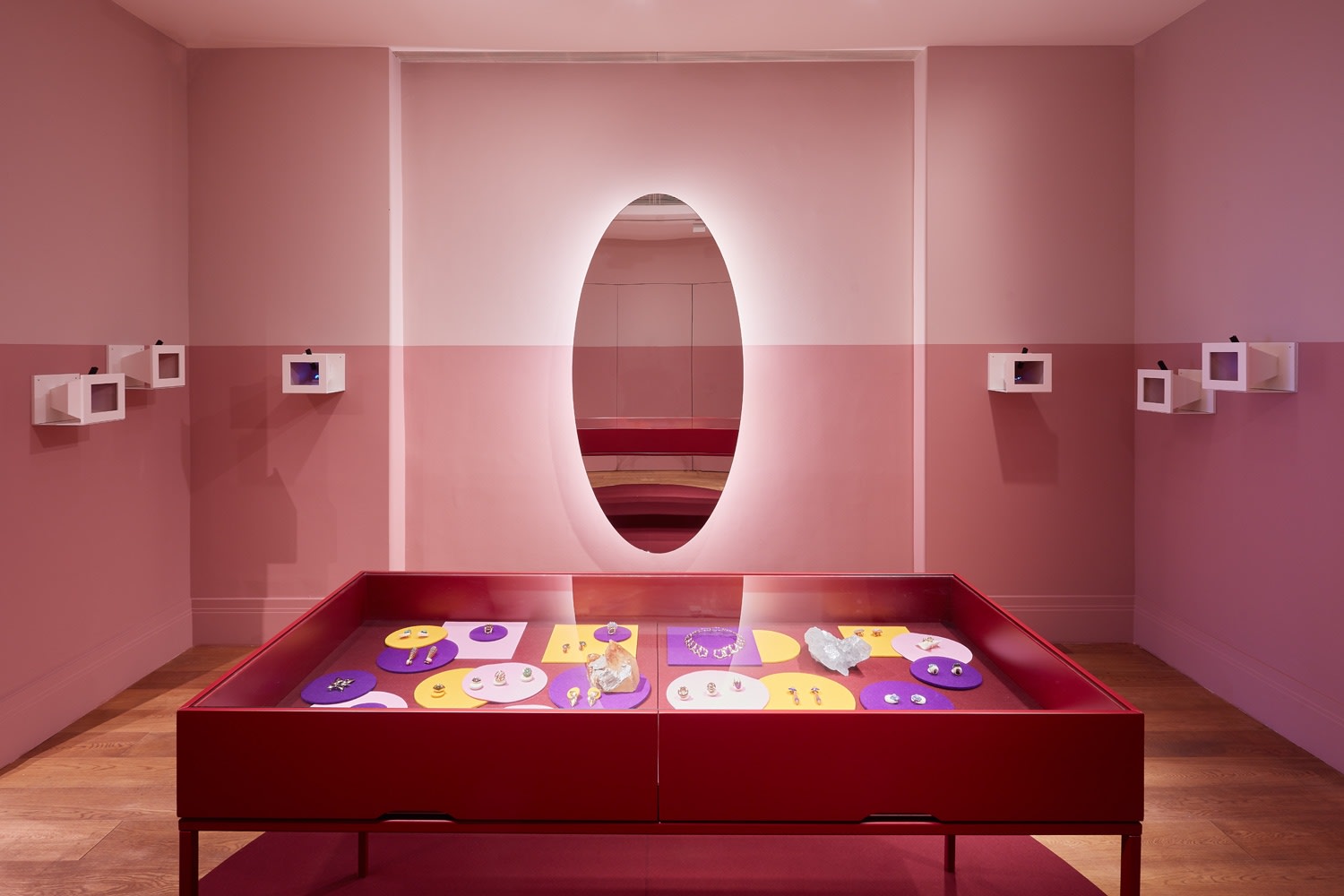 Installation view of Cora Sheibani's 'Glow' exhibition at Louisa Guinness Gallery
'There's this perception in the West that if a diamond is fluorescent it is less pure,' jeweller Cora Sheibani explains of the opinion that fluorescent elements in a colourless stone can cloud its purity and lessen its value. 'I think it's a shame. Fluorescence should be celebrated rather than looked down upon.' She has been searching for truly fluorescent gems for the past year. It's not an easy endeavour. Many minerals phosphoresce, but few are actually fluorescent (their colour change can be admired under UV light only).
Sheibani's latest show, at the Louisa Guinness Gallery in London Mayfair, is exhibited in darkness and caters to the unique nature of fluorescent gems, allowing the vividness of the glowing jewellery and fluorescent and phosphorescent elements of the designs on display, to shine through.
'Glow' also doubles up as a 15 year retrospective of Sheibani's works, with some new pieces in the mix. 'Unlike most jewellery shows which appear to women and jewellery lovers, this show will appeal not just to jewellery lovers, but to children, and anyone with a sense of curiosity.'
Sheibani's playful instinct is evident: 'I've always made jewellery that is inspired by everyday things, such as food or clouds or plants. Sometimes it's abstract but there's always a happy and playful element to it. Serious fine jewellery doesn't always have to be 'serious'.
The pieces on show make up an eclectic whole: a cloud shape brooch with glowing blue diamonds evoking windows and rain, sits alongside cupcake rings and flowering cacti bracelets. Sheibani is also adamant that the jewellery needs to be aesthetically impressive in its own right. 'It has to look fantastic even without fluorescence. The glowing colour is an added bonus.'