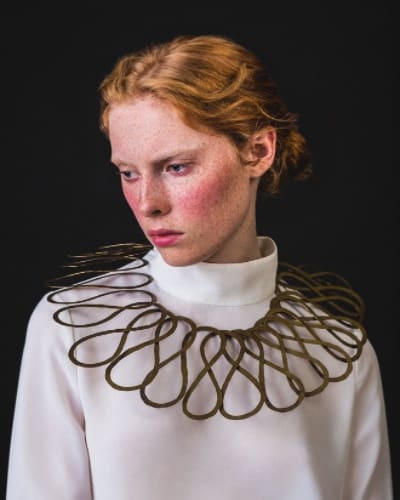 Alexander English's photograph of an Alexander Calder necklace for the Louisa Guinness Gallery. Photo: Courtesy Alexander English, Louisa Guinness Gallery and Calder Foundation
Designers seem to be advocating a more is more, pile it on approach to accessorizing for Spring. As we enter fashion month's home stretch, it's safe to say the single long statement earring will remain a must-have. There's also been, so far, a trend toward hyper-feminine and whimsical accessories. We also saw bold, minimalist bijoux on the runway in New York—remember the sculptural earrings at Proenza Schouler?—and those looking to get their fix ahead of the new season should look to London's Louisa Guinness Gallery, where "The Boldness of Calder,"the first solo show in the United Kingdom of the American sculptor's jewelry, opens today.
Better known for his abstract mobile sculptures and whimsical Circus, made of wire, cardboard, buttons, corks, and the like during the Depression, Calder is respected as a studio jeweler as well. The artist's first pieces, says Elisabeth Agro, a curator at the Philadelphia Museum of Art, were made for his sister's dolls, and by 1929, his jewelry was being exhibited in an art gallery. Calder used relatively humble materials like brass and silver wire for his handmade pieces, some of which were made spontaneously for friends.
The gallery describes Calder's jewelry as being "deeply unconventional in their time." (It's interesting this show follows on the heels of the ICA's recently-closed"Judy Blame: Never Again"exhibit, as both men, though from different worlds, used a DIY approach to creating iconoclastic jewelry.) At a time when diamonds and mink coats were typical displays of wealth, these daring, calligraphic pieces had little in common with contemporary bijoux. In fact, for all of their modernity, they bear more of a resemblance to ancient artifacts. If Calder's jewelry didn't communicate prosperity, it did convey status, at least to insiders of the bohemian-leaning art world, such as painter Georgia O'Keeffe and patroness Peggy Guggenheim, strong characters with well-defined tastes. "The Boldness of Calder" combines objects with archival photography and new images commissioned from fashion photographer Alexander English. These are intended to show the timelessness of Calder's inimitable jewelry, which Vogue once described as "truly, sculpture to wear."