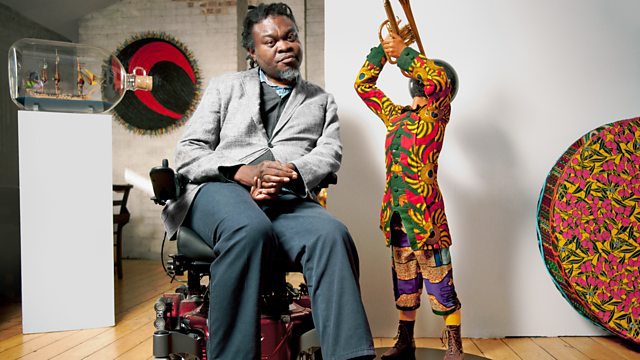 Yinka Shonibare (1962) (MBE) is a disabled British-Nigerian conceptual artist; a senior figure in the British art world but one who intentionally eludes easy categorization. He calls himself a "postcolonial hybrid", challenging assumptions and stereotypes.
He makes art that is sumptuously aesthetic beautiful and draws you in and often wickedly funny. When he deals with pithy matters like race, class, disability, colonialism and war, he does so deftly and often indirectly.
Shonibare is a painter, photographer and installation artist, whose art is influenced by both the cultures of Nigeria, where he grew up, and Britain, where he was born , studied and now lives. He has exhibited widely all over the world.Shonibare's videos, photographs and installations playfully mix up cultural and historical signifiers to blur boundaries between class and ethnicity, high and low art and coloniser-colonised relationships. Since the 1990s Shonibare has exhibited internationally extensively, including the Venice Biennale, 2001, and Documenta 11, Kassel, in 2002. In 2004 he was nominated for the Turner Prize.
His paintings and his sculptural installations make extensive use of dyed fabrics, which became popular in West Africa after independence. But many of these textiles betray Indonesian influences, are manufactured in Holland and are purchased by the artist in Brixton in south London.